This eBay listing has ended : PAMS EXCLUSIVE BEARS-Very Miniature Plush Teddy-Amy-only 1.5 inches tall!!!
Search for Items
|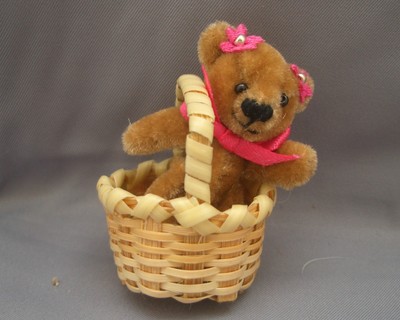 PAMS EXCLUSIVE BEARS-Very Miniature Plush Teddy-Amy-only 1.5 inches tall!!!
$14.10
Listing ended Sun, July 23, 11:05 am EDT
3 bids
Watcher count unavailable
Seller sowandsew has 100% + feedback, 3526 total feedback on eBay
View sowandsew's other items
Pam's Exclusive Bears AMY has a basket! She carries it with her everywere. Even out in the garden in the sun.(Sorry. I can't get Photobucket to show my photographs!) He is hand-made by me from plush material which is soft. He is just under 1.5" tall and his arms and legs are fully jointed. He has bead eyes (not safety eyes) so cannot be considered as a toy. I have recently had a massive stroke and recovering slowly. This is my first attempt at making bears, hope they are OK! It's certainly difficult so I will make them as and when I am able. PAYMENT-I am no longer able to hold bears over from one week to the next. I will expect payment no later than 5 days after end of auction, so that I may dispatch one week's bears before the next weeks listings have started. Any later payments will cause me to start a dispute via ebay. Sorry folks! POSTAGE-Royal Mail have changed their pricing increments in such a way that I can offer a better postage discount on multiple purchases-so please wait for my invoice if you have won more than one of my bears. Postage and PackingAll my bears have a label with their name on and all are lovingly dispatched in an individual gift box. I accept paypal, cheques and postal orders from UK customers. Please be aware that I cannot accept cheques or postal orders from overseas buyers. Paypal only please! I do not charge extra if you pay by paypal I will be happy to give a postage discount if you win more than one bear-please wait for my invoice before paying.