This eBay listing has ended : 1959 Dell Giant #22 HUEY, DEWEY & LOUIE BACK TO SCHOOL Nice!
Search for Items
|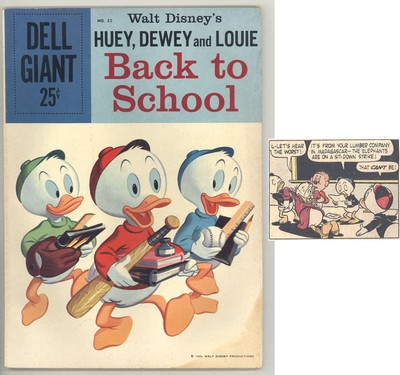 1959 Dell Giant #22 HUEY, DEWEY & LOUIE BACK TO SCHOOL Nice!
$5.51
Listing ended Tue, April 17, 9:05 pm EDT
3 bids
Watcher count unavailable
Seller steal-a-comic has 100% + feedback, 35305 total feedback on eBay
View steal-a-comic's other items
OVER 50,000 SERVED Collectible comic books For Auction, all at $0.99 Minimum Bid with No Reserve! Appearances by all your Duck favorites including Uncle Scrooge, Gladstone Gander and Gyro Gearloose. Unusually nice for a Dell Giant. Tightly bound, none of the puzzles and games have been cut out or written on. Near Fine condition. Buyer pays $4.00 U.S. P&H. Your item will be shipped in crush-resistant packaging that's virtually post-office-proof. Please pay within 15 days, otherwise your item may be relisted. EVERYTHING I SELL COMES WITH A COMPLETE MONEY BACK GUARANTEE. IF NOT DELIGHTED, ALL YOUR MONEY COMES BACK, INCLUDING ALL POSTAGE CHARGES. I GRADE CONSERVATIVELY--CHECK MY FEEDBACK Save on shipping...accumulate Steal-A-Comic wins. SEE MY SELLER'S LIST FOR MORE STEAL-A-COMIC LOTS. You're welcome to accumulate wins for up to 2 weeks. U.S. shipping charge is fixed at $4.00 for as many comic lots as you can accumulate during a 2 week period AS LONG AS ALL AUCTIONS ARE PAID FOR TOGETHER, ALL AT ONCE. You will receive my standard notification for each win. This is for my own record keeping and you can disregard the shipping charge asked for in each case. Click here to see all the current Steal-A-Comic lots on eBay! OUTSIDE THE U.S. please check the shipping rate in your country before bidding! Everyone looks forward to a delivery from Steal-A-Comic!