This eBay listing has ended : 1955 BELKNAP HARDWARE FULL BIG HARD BACK CATALOG. BLUE GRASS HARDWARE ETC.
Search for Items
|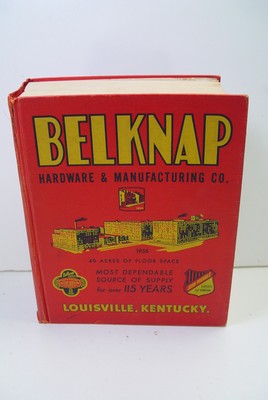 1955 BELKNAP HARDWARE FULL BIG HARD BACK CATALOG. BLUE GRASS HARDWARE ETC.
$52.00
Listing ended Sun, February 11, 9:06 pm EST
12 bids
Watcher count unavailable
Seller suzie--snowflake has 99.6% + feedback, 7515 total feedback on eBay
View suzie--snowflake's other items
ALL ITEMS SHIP THE DAY AFTER PAYMENT PLEASE NOTE : ALL ITEMS ARE SOLD AS IS. YOU SHOULD ASK ANY QUESTIONS YOU HAVE PRIOR TO BIDDING WE DO NOT ACCEPT RETURNS SOLD AS IS = NO REFUNDS = NO RETURNS NO INTERNATIONAL SHIPPING I USE THE "EBAY SELLING ASSISTANT" WHICH WILL AUTOMATICALLY SEND YOU AN EMAIL IF THIS ITEM IS NOT PAID FOR WITHIN 48 HOURS. IF YOU GET THE EMAIL, DON'T GET YOUR NOSE OUT OF JOINT, IT IS ONLY A REMINDER THANKS THANK YOU FOR BIDDING PAY PAL PAYMENTS ARE EXPECTED WITHIN 48 HOURS OF THE END OF THE AUCTION. IF YOU CAN'T DO THIS, PLEASE REFRAIN FROM BIDDING WE COMBINE SHIPPING WHENEVER POSSIBLE. ONLY ITEMS ENDING ON THE SAME DAY CAN BE COMBINED. WAIT FOR OUR INVOICE PRIOR TO PAYING IF YOU WANT A COMBINED SHIPPING PRICE. IF YOU PAY FOR YOUR ITEMS SEPARATELY, THERE IS NOTHING I CAN DO THE ITEMS I HAVE FOR AUCTION BELONG TO SOMEONE ELSE, I WILL BE GLAD TO ANSWER ANY QUESTION ABOUT THEM, BUT I AM NOT AN EXPERT ON ANYTHING ALL AUCTIONS WILL RUN THE FULL 7 DAYS. WE DO NOT ACCEPT OFFERS DESCRIPTION BELOW A 1955 ISSUE OF THE BLUEGRASS HARDWARE CATALOG. BELKNAP HARDWARE, LOUISVILLE KENTUCKY. ANYTHING AND EVERYTHING IN HARDWARE INCLUDING JOHN PRIMBLE KNIVES, LAMPS, APPLICANCES, TABLEWARE, SPORTING GOODS, FURNITURE, TOYS. 4150 PAGES. 3 5/8" THICK. HARDBACK. SENT BOOKRATE TO SAVE ON POSTAGE. A GREAT REFERENCE BOOK! ***** OUR 5 STAR SERVICE GUARANTEE ***** WE WILL SEND YOU AN INVOICE JUST AS SOON AS POSSIBLE, LET YOU KNOW THAT YOUR PAYMENT HAS BEEN RECEIVED, AND LEAVE YOU FEEDBACK AS SOON AS YOU PAY. WE WILL SHIP THE ITEM THE SAME DAY OR THE DAY AFTER IT IS PAID FOR. (LOTS PAID FOR VIA AN E-CHECK THRU PAY PAL CANNOT BE SHIPPED UNTIL THE CHECK CLEARS). LOTS PAID FOR ON SATURDAY WILL BE SHIPPED ON THE FOLLOWING MONDAY.