Search for Items
|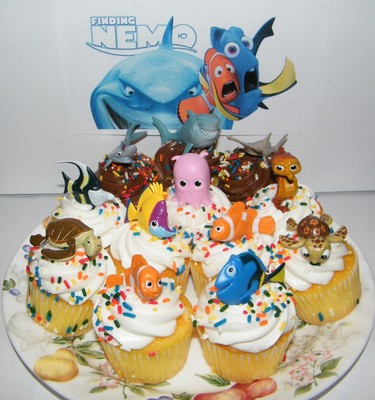 Disney Finding Nemo Cake Toppers Set of 12 Fun Figures with Dory, Nemo and More!
$9.99
Ends in 22d 1h
69 Bought
Watcher count unavailable
Seller alex14david has 99.7% + feedback, 41026 total feedback on eBay
View alex14david's other items
This listing is for a large set of 12 colorful cake/cupcake toppers from the popular Finding Nemo Movie! Please note these figures mini are 1 to 2 inches tall and work best on 12 inch cakes and regular sized cupcakes. They are bulk items so there is nobox. They are shipped in plastic as pictured. Also included is a special edition Disney mini dog tag as a special gift for the birthday boy or girl. These nicely detailed figures will help make your cake a big hit with any Disney fan. Finding Nemo is one of the most popular Disney movies of all time and you get plenty of figures to recreate this great film! This set includes all the popular characters including Nemo, Dory, Marlin who is Nemo's Dad, the 3 sharks Bruce, Anchor and Chum, Jacque the shrimp, Crush and his son Squirt- the sea turtles, Gill and more! Each figure is 1 to 2 inches tall and made out of hard plastic. These are for children and adults 4 and older. Also included is a special 1/2 inch mini Disney Classic Character mini dog chain with a 3 inch chain as a gift for the birthday boy or girl. (Please note these are randomly inserted and include classic Disney characters like Dumbo, Bambi, Peter Pan and more so you may or may not get the one pictured.) These Nemo figures not only look great on cakes but the kids will have a fun time playing with, collecting and trading these fun figures long after the party is over! These fun collectible Disney Finding Nemo Cake Toppers will help make any party a hit! Do not miss out on these great party decorations with the special mini dog tag birthday gift!