This eBay listing has ended : VERY rare Ancient Judaean Coins PER COIN BUYING !!
Search for Items
|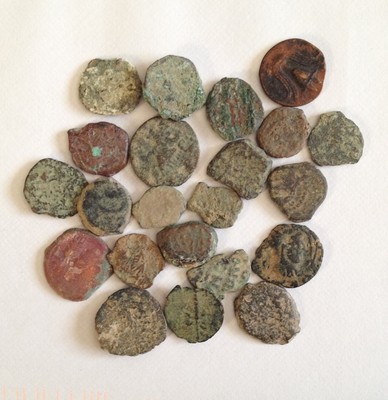 VERY rare Ancient Judaean Coins PER COIN BUYING !!
$7.50
Listing ended Mon, March 20, 2:14 pm EDT
13 Bought
Watcher count unavailable
Seller desimone_1 has 99.3% + feedback, 8809 total feedback on eBay
View desimone_1's other items
This item is of legal provenance per ebay policy. I purchased this/these item/items in 2015/2016 in a large lot from a dealer in Israel. The items were brought into this country legally per the laws in place at the time here in CANADA when it was imported. I have included a scanned image of the official document that was approved by for export. All items or coins listed here are the property of desimone_1. We have been selling ancient coins, items, and artifacts on ebay since around 1998 and buy our items ONLY from reputable dealers. All items are guaranteed to be authentic and as described. Period: 4th Century BCE to 132-135 CE or later Condition: uncleaned and as shown Found in Israel 100% original uncleaned coins Please visit our site:romancoins.mybisi.com *Please Note* 1 bid/buy = 1 coin = $7.50 2 bids/buys = 2 coins = $15.00 Normal 0 false false false EN-US X-NONE X-NONE Ancient Judaean and biblical coins from the Holy Lands of Israel. Please see the quality as to what your getting and all coins go out randomly!. This is a Buy It Now auction So there is no need to bid or wait!! Just enter the total amount of coins you wish to buy into the bidding box below, and you will be directed to checkout page. So all the coins you "Buy It Now" will be on their way to you by the next business day unless the auction ends on the weekend, then they would be mailed out the following business day!. Credit cards are always accepted through PAYPAL, M/0's or other sent in the mail will be shipped the same day we receive them. PayPal is best with international payments but you can send through the mail. SHIPPING AND PAYMENT METHODS (please look below) The Shipping is a flat rate of just $0.00 for US so you can order 1 coin or all the coins and the shipping will just be a flat $0.00. International shipping is extra based on destination and if you pay with a M/0's or other Shipping is also FREE (WITH IN NORTH AMERICA ONLY!). Payment must be made within 10 days!. Please remember to add your email address, shipping address, and ebay ID when mailing out your payment or your items will be delayed in the process. If you have any questions please email us at any time and one of us will reply as soon as possible. INTERNATIONAL BIDDERS Due to problems in the past that I have run into with international payments, I we will accept payments payable in currency. International M/0's (payable in US), Western-transfers or credit card payments through PayPal are acceptable as well. I apologize for any difficulty this may cause you. But please email us for the total shipping!. **PLEASE NOTE** The free shipping is for Regular and it may take up to 4+ weeks depending on the running of the mail and where you live. If you want insur. please ask (as it will now have to be added to the total since is cannot be optional !). Items may be returned provided the Entire Lot purchased is Returned UNCLEANED for any reason within 10 days of receipt just please email us before you do plus these coins are all sold pieces. We personally guarantee that all the ancient coins we sell are authentic and they are guaranteed for life. If they are ever found not to be completely genuine, your money will be refunded 100% and these coins come to you as we get them. Please send your payment as soon as possible if your mailing out your payment, any payment not received within 7 days from your bid date will cancel the bid !!. We make sure that each and every bidders experience with us is a very enjoyable one!!. If you ever have any problems at all with your items PLEASE CONTACT US, as I CONTINUALLY go out of my way for my bidders and I will always make sure you are happy. Therefore please contact us if there are ever any problems!! If you have any questions or comments please email here! Check out our Ebay Store here !