Search for Items
|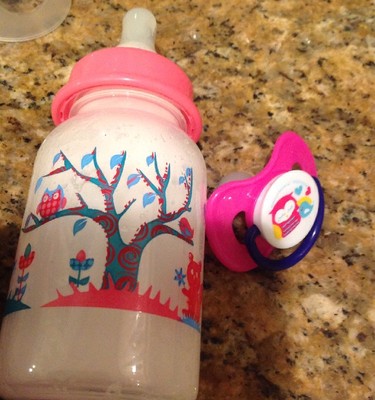 BABY ALIVE ONE BOTTLE AND ONE PACIFIER FOR BABY ALIVE DOLLS SHOWN 4 OZ SIZE
$8.50
Ends in 21d 15h
407 Bought
Watcher count unavailable
Seller luvgold has 99.8% + feedback, 4457 total feedback on eBay
View luvgold's other items
THIS IS FOR ONE 5 OZ BABY ALIVE HOME MADE PACIFIER AND BOTTLE: PLEASE NOTE THE LIQUID I PUT IN THE BOTTLES IS NON TOXIC, ALSO YOU WILL HAVE TO MAKE SURE YOUR CHILD IS OLD ENOUGH TO USE THIS AS IT DOES HAVE A MAGNET AND SILICONE AT THE END, IT 'S DRIED UP WHEN YOU GET THIS SO INSPECT THIS, AND MAKE SURE YOUR CHILD KNOWS IT'S FOR THE DOLL NOT FOR THE CHILD, ALSO THE PACIFIER IS MADE THE SAME WAY SO MAKE SURE, YOUR CHILD DOES NOT PUT THIS IN THEIR MOUTH AND THEY KNOW IT'S FOR THE DOLL ONLY . I CAN'T STRESS THIS ENOUGH LOOK AT ALL THE PICTURES OF THE DOLL, IF YOU DOLL HAS A TINY MOUTH HOW COULD A NIPPLE FIT INTO THEIR MOUTH , IT IS ONLY FOR THE DOLLS IN THE PICTURES SHOWN. YOU ARE SUBJECTED TO A RESTOCKING FEE IF YOU RETURN THIS.CHECK OUT MY FEEDBACK FOR THIS ITEM:I DO SELL THE SMALLER 2 OZ GREEN OR PINK BOTTLES IN A DIFFERENT BUY IT NOW CHECK OUT MY STOREBOTTLES SHOWN ARE EXAMPLES I AM CONSTANTLY FINDING DIFFERENT DESIGN BOTTLES. NO CHOICE ITS WHAT I HAVE IN STOCK SOME COME W A BLUE TOP, BUT GIRLY DESIGN I HAVE SHOWN SOME OF THE BOTTLES I USE THE MOST. SO PLEASE UNDERSTAND BOTTLE DESIGN MIGHT CHANGE AS WELL AS PACIFIER AS THESE ARE HARD TO FIND SO I GET MANY DIFFERENT ONES ALL GREAT FOR DOLLS SHOWN.SAME THING W PACIFIERS I HAVE MANY DIFFERENT DESIGNS AND COLORS SOME MIGHT BE GREEN ORANGE PINK OR PURPLE, ONES W DESIGNS ON THEM . AGAIN THEY CHANGE NO CHOICES.THE BOTTLES ARE ALL PRETEND THEY ARE MADE BY ME ,NOTHING WILL COME OUT OF THEM, I ADD NON TOXIC FAUX FORMULA TO THE BOTTLE AND THEN I GLUE IT SHUT, THERE IS SILICONE AT THE END OF THE NIPPLE ALONG WITH A NEO MAGNET THAT MAKES THE BABY ALIVE SUCK ON THE BOTTLE, IT IS USED ONLY FOR THE DOLLS SHOWN. I HAVE HAD MANY PEOPLE BUY THIS FOR THE WRONG DOLL, SO PLEASE IF YOU HAVE QUESTIONS ABOUT WHICH DOLL IT FITS LOOK AT MY PICTURES AND MY FULL DESCRIPTION OR ASK ME A QUESTION PRIOR TO PURCHASING THIS BOTTLE AND PACIFIER. IT WILL NOT FIT SUPER SNACKIN SARAH OR SNACKIN LILLY DOLLS OR BABY GO BYE BYE , OR BABY ALL GONE.ITS ONLY FOR THE OLDER BRAND OF BABY ALIVE DOLLS THE NEWER DOLLS HAVE A DIFFERENT TYPE OF MAGNET AND THESE PACIFIERS AND BOTTLES WILL NOT WORK ON THEM SO VERY SORRY AGAIN PRETEND THE DOLLS SHOWN WILL MAKE SUCKING NOISES W BOTTLE AND PACIFIER MADE IF U PURCHASE FOR THE WRONG DOLL NO REFUNDS.
THIS IS FOR THE BIG DOLLS SHOWN IN PICTURES
2006 RUBBER FACE BIG DOLL (SHOWN)2007 BIG DOLL W HEADBAND (SHOWN)2010 BIG DOLL W BOW AS SHOWN (SHOWN)AND SURPRISE BABY ALIVE DOLLS (SHOWN)BABY ALIVE DOLLS SHOWN WILL MAKE SUCKING NOISES AS IF THEY ARE DRINKING OR USING THE PACIFIER TOO CUTE!!!I MAKE THE BOTTLES TO ORDER AND NEED ONE NIGHT TO LET THEM DRY ALL BOTTLES ARE BRAND NEW CHECK OUT MY FEEDBACK CHECK OUT MY LOWER PRICESQUESTIONS ASK THANKS RECENTLY SOMEONE LEFT THIS BAD FEEDBACK IT'S BECAUSE SHE BOUGHT THIS FOR THE FACE PAINT BABY ALIVE DOLL WHICH IS NOT LISTED AS ONE OF THE DOLLS THAT THIS PRODUCT WORKS FOR SO EVERYONE UNDERSTANDS WHY THAT RATING WAS LEFT .I DO SELL SIMILAR ITEMS FOR THE BABY ALIVE WET AND WIGGLES CHANGING TIME CHECK OUT MY STORE FOR, ALL MY BABY ALIVE ITEMS. THERE IS NO DOLL INCLUDED IN THIS PURCHASE YOU WILL GET ONE CUTE BOTTLE WITH ONE PACIFIER ONLY .THANK YOU QUESTIONS AGAIN ASK.