Search for Items
|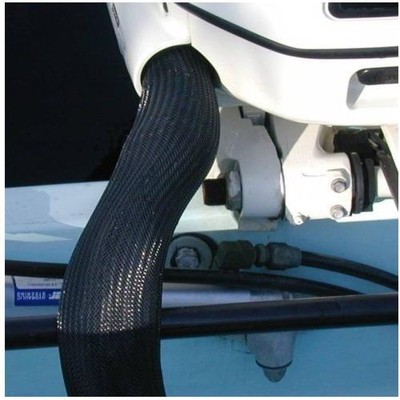 Wire Harness Steering Throttle Shift Cable Rigging Sleeving/Hose 1.5" - 6"
$2.99
Ends in 6d 2h 16m
214 Bought
Watcher count unavailable
Seller doug-russell has 99.3% + feedback, 111538 total feedback on eBay
View doug-russell's other items
Welcome to DOUG RUSSELL MARINE eBay Store! Join Mailing List Add to Favorite Sellers Feedback About Us Payment Shipping Returns Contact Seller Mercruiser Parts Mercury Parts OMC Parts Johnson/Evinrude Parts Volvo Penta Parts Yamaha Parts Sea Doo Parts Store Home ABOUT US PAYMENT SHIPPING RETURNS CONTACT SELLER Store Categories Mercruiser Parts Mercury Parts OMC Parts Johnson/Evinrude Parts Volvo Penta Parts Yamaha Parts Sea Doo Parts Store home Accessories (89) Auto Parts (29) Bargain Basement (1) Boat Parts (160) Carburetors (11) Chrysler Parts (12) Cleaning & Maintenance (161) Clothing/Acces​sories (46) Cooling - Engine (6) Corrosion Protection (35) Covers & Tops (210) Cowlings/ Engine Covers (7) Cylinder Heads (11) Dampers & Flex Plates (1) Decals (259) Docking & Anchoring (108) Electrical Parts (217) Electronics (27) Exhaust (101) Fabrics, Upholstery & Carpet (62) Fishing (81) Flags & Accessories (35) Fuel Products (108) Gasket Sets (26) Gift Ideas (22) Hardware (204) Heat Exchangers/Coo​lers (7) Ignition (262) Instruments & Gauges (89) Intake Manifolds (3) Johnson/Evinru​de Parts (69) Kawasaki Parts (1) Larson/Glastro​n Parts (207) Lighting (59) Marine Engines & Sterndrives (170) Mercruiser Parts (307) Mercury Parts (163) Nissan/Tohatsu Parts (4) Oils & Lubricants (32) OMC Parts (78) Paint (51) Plumbing (81) Propellers (216) Rails & Fittings (15) Repair Manuals (84) Safety Equipment (77) Sailing (6) Sea Doo & PWC Parts (91) Seating (38) Steering & Controls (148) Tools (10) Trailer Parts (185) Trim Tab Components (6) Used Parts (9) Volvo Penta Parts (91) Watersports (130) Winterizing Products (25) Yamaha Parts (17) Other (55) Volvo Penta Mercruiser Sea Doo Add DOUG RUSSELL MARINE Shop to your Favourites and receive my email news-letters about new items and special promotions! General Interest Flex Sleeving Product Description Flex Sleeving A lightweight jacketing for bundling and protecting wires cables and hoses. Braided from high temperature yarns T-H Flex™ offers total protection for wire and cable assemblies. The unique expansion characteristics makes T-H Flex™ easy to slip on. Dia.: 1-1/2"-6" Size: Sold by the foot About Us Delivery Info Payment Options Returns Contact us --> Doug Russell Marine was founded in 1956 and is located west of Boston in Worcester, Massachusetts Under the same ownership for over 50 years, we have continued to provide the finest products and service in the industry. Doug Russell Marine maintains one of the most extensive parts department in the world with more than 100,000 parts, and over 1,000 sterndrives and engines in stock! With such names as Mercruiser, Volvo, OMC Johnson/Evinrude, Sea Doo, and Yamaha we have come to be known around the globe for sterndrive and engine repower. We are also pleased to offer Sea Doo Personal Watercraft, Angler Fishing Boats, EZ Loader and Venture Trailers. Backed by these brand names and our 58 years experience we continue to offer the best brands in the business. Over the years we have acquired the knowledge, experience and inventory second to none. Our profound buying power gives us the ability to offer the best prices in the industry. Nobody comes close. Our factory trained technicians and dedicated sales staff are passionate about their work. We pride ourselves in taking the time to work with each individual, to ensure you are properly matched within your budget and technical needs. Not only will you get the best possible price, but you will also have exceptional service & consultation before, during and after the sale. Achievements: 3 time World's Largest Mercury/Mercruiser dealer 6 time World's Largest Larson Boat dealer 2 time World's Largest EZ Loader Trailer dealer 2 time World's Largest Silverline Boat dealer Hours Monday 8:00am-5:00PM EST Tuesday 8:00am-5:00PM EST Wednesday 8:00am-5:00PM EST Thursday 8:00am-5:00PM EST Friday 8:00am-5:00PM EST Saturday 8:00am-3:00PM EST Sunday Closed Location & Contact Info 1 SW Cutoff (Route 20) Worcester, MA 01604 Tel. 508-791-4917 Shipping Methods For most orders, we ship using UPS and USPS. Common Carrier transportation may be required for shipments which are oversized, overweight, or need some type of special handling. IMPORTANT NOTE: Orders over $100 require signature at delivery. Delivery Time Although we strive to ship orders the same day the are received, Please allow 1-2 business days for your order to ship (excluding weekends). Typical transit times per carrier: USPS Media Mail: 2-8 business days USPS Standard Post: 2-8 business days USPS First Class Mail: 2-3 business days USPS Priority Mail: 1-3 business days UPS Ground: 1-6 business days within the contiguous United States What am I responsible for upon delivery? Examine your order upon delivery to ensure that there are no visible signs of damaged, missing or incorrect pieces. In the event that there are missing, damaged or incorrect packages, please contact our customer service department at 508-791-4917 within 24 hours of your delivery. A signed delivery receipt, without notations of missing, damaged or incorrect item(s) represents your acceptance of the complete order in perfect condition. For any other problem with your order, please refer to our return policy. What if I want expedited delivery? Orders received before 12:00pm EST may be eligible for expedited shipping for and additional fee. Please contact our customer service department at 508-791-4917 to check eligibility. Questions? If you have specific shipping concerns please call us at 508-791-4917. Payments: Doug Russell Marine accepts payments via Paypal, Mastercard, Visa, American Express, Discover, check, and bank wire transfer. Please contact us at 508-791-4917 to make a payment by phone. To pay for multiple auctions, successfully win all auctions you wish to purchase. Before making a payment, we will combine all items to one transaction and you can pay once for your entire order. Sales Tax: We are required by state law to collect 6.25% for shipments to Massachusetts. Please review our detailed policies on shipping and fixing any issues before purchasing the item. If you have any questions, please call us at 508-791-4917 Returns Please feel free to contact with us through eBay Message Featured Categories --> Copyright © 1998-2018 Doug Russell, Inc. All rights reserved. Copyright © 1998-2018 Doug Russell, Inc. All rights reserved.