Search for Items
|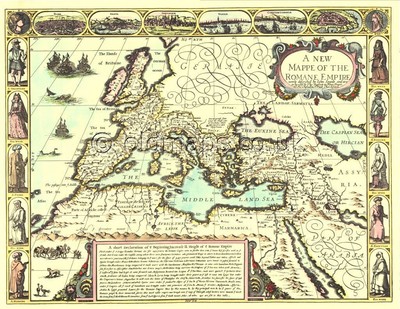 Roman Empire Replica J.Speed. ALL HAND COLOURED 17c. Old Map UNIQUE GIFT IDEA!
$59.47
Ends in 4h 52m
1 Bought
Watcher count unavailable
Seller old-maps has 100% + feedback, 4363 total feedback on eBay
View old-maps's other items
The Roman Empire You are bidding on an exquisite Hand Coloured Reproduction of the John Speed original. The size and detail are faithfully reproduced from an original. This is a beautiful representation of 'A New Mappe of the Roman Empire newly defcribed by Iohn Speed' from a copy of Speed's Prospect of the World from 1676.This map shows the provinces of the Roman Empire at its height, and their main towns, all with their Latin names. Along the top of the map are illustrations of the more important colonies: Rome, Geneva, Jerusalem, Venice, Constantinople and Alexandria. Running down the sides are depictions of the natives of the Roman Empire: 'A Spainyard, An Italien, A Turke, An Egiptian, A Maroche', whilst a history of the empire is given in a box at the bottom of the chart. This map was in use before the advent of motor cars, railways and canals. John Speed was the most famous of all English map-makers. He published an atlas of the counties of Britain, entitled "The Theatre of the Empire of Great Britaine", in 1611 and followed it with 'Prospect of the most famous parts of the world' in 1627. His original maps are highly prized and fetch many hundreds of pounds when they come on the market. Here you have the opportunity to own a hand coloured facsimile for a fraction of the price of the original! Measuring c. 21" x 16", this map has been reproduced onto quality cream vellum 120gsm paper, and painstakingly hand coloured, with no other mechanical colouring involved. Every bit of colour on this map has been applied by hand with sable brushes using traditional watercolours and inks. THERE IS NO PRINTED COLOUR ON THIS MAP WHATSOEVER! In the past if you wanted a John Speed Map, you either had to pay hundreds, if not, thousands of pounds for a genuine one,- that is if you could find one. Or else you had to settle for cheap colour printed or black and white copies costing a few pounds. These printed copies quite often are treated to resemble 'parchment', although I am not sure why, because original John Speed maps are never ever printed on parchment! Well now there is another choice! Our maps are individually hand coloured, making each one unique and very desirable. As each map is an individual work of art in it's own right, each is unique and may differ slightly from the pictures shown below. Although not totally accurate from a cartography point of view, this map displays a charm and naivete that cannot be found in today's hi-tech world. Check out my other itemsJust click on the link. Please look in my shop for other fine examples of our unique hand coloured maps. Please don't hesitate to contact me if you have any questions about these maps. For example if you would like to know if a place name is shown on a particular map. My preferred payment method is with 'PayPal'. I am an Authorised Merchant and am now accepting credit and debit card payments(including American Express) over the phone on 0116 2620500 between 10am and 5pm Mon - Fri THIS MAP WILL BE SENT ROLLED IN A STOUT CARDBOARD TUBE. WE SELL DRYMOUNTED, CLOSE FRAMED AND MOUNTED AND FRAMED EXAMPLES OF THIS MAP IN OUR EBAY SHOP .... PLEASE HAVE A LOOK! Postage and Packing is FREE within the UK, £8.50 Overseas. WHY NOT BUY MORE THAN ONE MAP AT THE SAME TIME, (THEY MAKE GREAT GIFTS!) AND ONLY PAY FOR ONE LOT OF POSTAGE AND PACKING! The map you are bidding on does not have either a window mount or a frame. Mounted and framed maps are available in my eBay shop - PLEASE CLICK HERE! Pay me securely with any major credit card through PayPal! Pay me with PayPal. I don't charge my buyers extra! Paying with PayPal or Credit/Debit Card, including American Express over the phone on 0116 2620500 (10am - 5pm. Mon to Fri) will ensure a quick Dispatch. Usually within 3 'working' days. This card payment option is only available to UK buyers. Overseas buyers must use PayPal.