Search for Items
|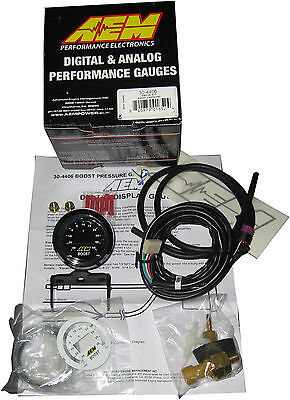 AEM 30-4406 52MM DIGITAL 35psi ELECTRONIC TURBO BOOST GAUGE - FULL WARRANTY !!
$162.58
Ends in 23d 19h
728 Bought
Watcher count unavailable
Seller lightningmotorsports has 99.9% + feedback, 28428 total feedback on eBay
View lightningmotorsports's other items
AEM 30-4406 52MM DIGITAL 35psi ELECTRONIC TURBO BOOST GAUGEHello, thanks for checking out the auction, we appreciate the opportunity to serve you. We want to help make sure you get that project up and going ASAP. We have been taking care of automotive enthusiasts online since 1996, if you need a reputable business to deal with, we are your only choice. Over 83,785 customers and counting, We know performance ! If you need expert assistance, we can help please free to call, email, or stop by our warehouse if you are near. We are an Authorized Master Warehouse Distributor for AEM, this means you get FULL WARRANTY and FACTORY SUPORT !! NOTE: If you find a dealer selling for less we CAN GUARANTEE it has NO WARRANTY or MIGHT BE FAKE, All Authorized dealers are REQUIRED to follow pricing guidelines. FREE EXPEDITED 2-3 DAY SHIPPING INCLUDED !! You are bidding on a BRAND NEW AEM Digital Boost Gauge Kit part number 30-4406. The Kit comes complete with: (1) 2-1/16in. Gauge Assembly and bracket, (1) 50psiA Pressure Sensor, (1) rubber hose section, (1) nylon "T" connector, (6) Butt Connectors, (1) Installation Instruction Sheet and sticker (1) Wiring Harness, (1) Silver Bezel, (1) Black Faceplate, (1) White Faceplate, (1) Black Bezel. The AEM 30-4406 35PSI Boost Gauge uses an easy to read digital readout that increments every 1 PSI from vacuum of -30 to 35psi of boost pressure.. This is essential to anyone wanting to know exactly how much boost they are running. All AEM digital gauges have the digital readout in the center, and sweeping LED "needle" that lines the edge of the gauge that changes colors as boost changes. The digital readout will automatically increase and decrease in intensity due to the built in ambient light sensing photocell. A 50 PSIa brass sensor gives the gauge its accuracy. Please NOTE: as this kit uses an absolute-type sensor, there will be slight deviations in boost readings for use in applications above 4000ft. Each gauge comes with interchangeable black & silver bezels and black and white gauge faceplates for multiple color combinations.