This eBay listing has ended : Fenton ORANGE TREE ANTIQUE CARNIVAL GLASS FTD ROSE BOWL IN AMETHYST! WOW!
Search for Items
|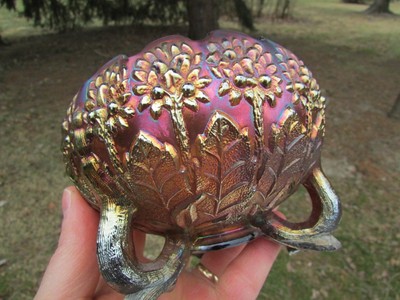 Fenton ORANGE TREE ANTIQUE CARNIVAL GLASS FTD ROSE BOWL IN AMETHYST! WOW!
$158.75
Listing ended Thu, May 17, 9:17 pm EDT
36 bids
Watcher count unavailable
Seller bigrigg1107 has 99.6% + feedback, 4829 total feedback on eBay
View bigrigg1107's other items
THANK YOU FOR STOPPING BY AND WELCOME TO MY AUCTION! I ESPECIALLY WANT TO THANK THE REPEAT BUYERS. I GREATLY APPRECIATE YOUR BUSINESS, LOYALTY AND COMMUNICATION OVER THE YEARS! IT IS MY HOPE THAT YOU ALWAYS ENJOY THE ON-LINE AUCTION EXPERIENCE AND CONTINUE TO COME BACK OFTEN. MY AUCTIONS ARE ALWAYS NO RESERVE AUCTIONS, HAVE BEEN FOR YEARS, THE WAY AUCTIONS SHOULD BE. NO BUYERS PREMIUM OR PER LOT FEES EITHER! YOU PAY ONLY WHAT YOU BID! SO PLEASE ENJOY AND HAVE FUN WITH THEM! ITEM DESCRIPTION: This is a SCARCE, UNMARKED, Antique Fenton ORANGE TREE Footed Rose Bowl, also called FENTON'S FLOWERS, made in the early 1900's. The base glass color is AMETHYST! I stress again...this piece has NO makers mark! This is no reproduction piece. Opportunities to own these elegant pieces in AMETHYST seldom come along. This a Very Colorful Specimen too...making it an even tougher piece to get ahold of. As the photographs clearly show, in total, the iridescence is Quite Rich and Colorful featuring Exquisite Rainbow Hues all the way around making it exceptionally attractive from any angle. The elegant raised pattern details glisten nicely too in natural light. If you have been looking for a dandy example, exceptionally Beautiful, in AMETHYST, in great condition...take a darn good look here. Please see the photographs and enjoy...I have showed as many angles and iridescent features as I can cram into 12 photographs. Dark areas in the photographs are shadows or reflections only. This is great opportunity here to own one of these highly prized Rose Bowls with exceptional iridescent charm...gorgeous on display...and it's AMETHYST! A Wonderful piece of Antique Fenton Glass in every regard. Again there is no makers mark at all. It is Antique Fenton at its VERY finest. Every bit as Rich and Beautiful as the photos show. ITEM MEASUREMENTS: The piece is 5 3/8 inches wide at the widest point. It is 4 inches tall at the tallest point. BASE GLASS COLOR: AMETHYST ITEM CONDITION: There are NO CHIPS, CRACKS or REPAIRS on this ELUSIVE, Elegant, Beautiful Antique Fenton Footed Rose Bowl. A Lovely piece of this fine antique glass! THE BASE: The mold seams on the base are nice and smooth. I can't make out any shelf wear on the on the bottoms of the feet which is extraordinary for any piece of this fine Antique Glass. It sits flat and level on a flat surface. THE INTERIOR: The interior display surface of the piece is in great condition. I can't make out any wear which is exceptional for the shape and pattern. You don't display the interior of these, but it is quite nice. THE EXTERIOR: I can't make out any wear at all on the exterior which is extraordinary to say the least. The iridescence throughout the interior display surface of this Jewel is quite Rich featuring Exquisite Rainbow hues giving it excellent visual appeal. You seldom see these this well done! The raised pattern details are cloaked in Gold, glisten in natural light and stand out nicely form the colorful background. This is a great opportunity here...these highly prized pieces are very seldom seen or sold in AMETHYST, this Pretty, and this one is a Dandy! The shelf presence...in terms of it's sheer scarcity and charming iridescent properties...is absolutely Fantastic! A Superb piece of Antique Fenton Glass! THE EDGE: The Edge Treatment on the piece is very well done. The scallops around the top edge have all been accounted for. It is well balanced for these. The close up photographs clearly show that this Lovely Rose Bowl has been very well cared for over the last century...absolutely kept as a show case piece in my opinion. That is all I can find on this SCARCE, Quite Rich, Exceptionally Beautiful Antique Fenton Footed Rose Bowl. A Classy example of this elegant, highly prized pattern, shape and difficult to obtain base glass color. Attractive iridescent qualities throughout make it very pleasing on display...Nice and Pretty! If you have been looking for an exceptional example, in AMETHYST, with Exquisite overall visual characteristics, in superb condition...take a good look here and give it your full consideration. This Lovely Gem will add Awesome visual charm and appeal to your display as well as excellent dollar value. It is every bit as Elegant and Beautiful as the photographs show! I have been selling antiques on Ebay a long time. You may note that my auction format is very plain...I fully intend it to be that way, no glitz and glamour. I am an antique enthusiast and collector of old glass and pottery...I find it completely fascinating. I am a HUGE advocate of antique Carnival Glass...in my opinion...there is nothing else like it in the world of antiques...not even close. I'm selling fine antiques...not me. The historical pieces I sell are part of our history, as a country, and made right here in the good ole' USA unless I state otherwise. They represent a time when America made things, great things...before it was popular to sell this country out! Imagine...made in the USA...what a concept! They are awesome all by themselves...no glitz and glamour is needed to promote them...the photographs say it all! Please enjoy the many photos and detailed descriptions...in my opinion...nothing else needs to be done or said. You will find my descriptions much more detailed than you will get at any public auction...guaranteed! I do my best to point out damage or wear issues with the pieces I offer. I'm not perfect...but I am honest. True antique glass always has some manufacturing marks. It was made a century ago and mass produced...cheaply...well before quality was an idea. Well before Cell Phones, Computers or any technology at all. It is hard for people to comprehend that today, but it is fact. People still went to the corner drug store to use the phone! Imagine! The working conditions were unbearable by today's standards, yet the hard working American's of this era produced some of the most amazing items ever made. Manufacturing marks within the glass are part of the charm of this period in time. If there is a manufacturing mark that is out of the ordinary...such as excessive, contained, bubbles throughout the glass or a manufacturing heat check...I will mention it. Normal manufacturing marks such as straw marks, stretch marks, enclosed bubbles, light tool marks, though, will not be mentioned and should certainly be anticipated. Look over the many photos provided. Please educate yourself about the items you are buying and ask questions while the auction is in progress. If typical manufacturing marks bother you...please ask questions up front! I will readily answer questions as diligently as I can. EDUCATION: It is always a great idea to educate yourself about the antiques you are interested in purchasing before you buy from me or anyone else. It will further your appreciation and hone your interest. For Carnival Glass....I highly recommend David Doty's Carnival Glass Website. I also find his Field Guides extremely helpful if you can find them, there are several. They are the best guide to learning patterns, especially the 2000 updated version. Even used...they are well worth the money. I also recommend Edwards and Carwile's Carnival Glass Encyclopedia...there are several editions published. They cover the widest array of patterns of any guide I have seen and the text is excellent. The Mordini Auction Price guide is also extremely useful. There are other very worthy materials out there that will help you learn and grow, as well as numerous clubs and organizations. SHIPPING: I ship USPS Priority exclusively and I usually ship only on Saturdays and Mondays. I use premium ONE INCH bubble wrap (not the cheap 1/4 inch) and foam peanuts to package the pieces exclusively. I take great pride in packaging these wonderful pieces of history VERY well...like they deserve to be packaged and I like them packaged for me. I do apply a small handling fee to the Shipping Cost. I greatly apologize, but Shipping supplies are NOT cheap. Running NO RESERVE Auctions doesn't mean I make money. I never know how an item will sell. I can't afford to take losses on items (which happens) AND pay for Shipping Materials. In order to maintain the NO RESERVE Auction format that many of you have told me repeatedly that you greatly appreciate...I must make sure Shipping Supplies are covered. SHIPPING INSURANCE IS INCLUDED IN THIS FEE in the unlikely event it is damaged in transit. My goal, however, is to NEVER have a damaged piece of glass...EVER! My feedback comments prove my diligence in that regard. SHIPPING DISCOUNTS: YOU BET! I always combine shipping costs on multiple purchases whenever I feel I can do so safely with no possible harm to the pieces!!! I also discount shipping for repeat buyers whenever I can, significantly if possible, up to and including Free Shipping. Running No Reserve Auctions do not always allow me to do that...sometimes I lose money and can't...but if I can...for repeat buyers I certainly will! I don't advertise it...I just do it when I send the invoice. It is my way of saying THANK YOU! RETURNS: All purchases are considered final. I run 7 to 10 day auctions with plenty of photos, text and lots of time for questions if needed. I will accept returns if I have obviously misrepresented an item and I agree that I have. I will refund the original Purchase Price and the original Shipping Cost only.