This eBay listing has ended : *SC* CHOICE & LARGE THIN BLADED NEOLITHIC SICKLE / SAW, 2000 BC!
Search for Items
|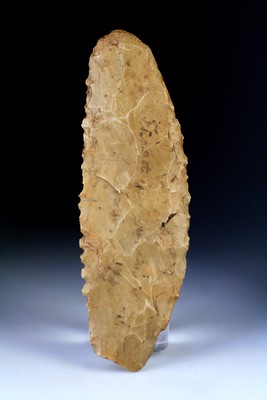 *SC* CHOICE & LARGE THIN BLADED NEOLITHIC SICKLE / SAW, 2000 BC!
$68.69
Listing ended Wed, November 30, 2:58 pm EST
5 bids
Watcher count unavailable
Seller saruman.com has 100% + feedback, 3148 total feedback on eBay
View saruman.com's other items
About us Authenticity guarantee Payment & shipping CHOICE & LARGE THIN BLADED NEOLITHIC SICKLE / SAW, 2000 BC! Neolithic sickle or saw, dating to c. 2000 BC. The sickle measure 138 mm / 5,7 inches and is very slim, and skillfully knapped with distinct 'teeth' at the edge of the blade. It could easily had been used as a saw. Condition is choice – a small part of one end broke of in antiquity, otherwise it is superb with nice beige patina. Finding place is written in ink, but hard to read – probably found in late 18th – early 19th cent. Ex. International auction house. Est: $300. Start: $49. About: Senatus Consulto specialize in ancient coins and antiquities from European and Asian cultures. In general we offer antiquities from a period spanning from the Neolithic ages throughout the Bronze and Iron ages and well into the Middle ages. Our stock is aquired from large and well known danish estates or collections often formed in the beginning of the 20th century. Authenticity Guaranteed: Senatus Consulto fully guarantees all artifacts and coins to be genuine in every aspect unless otherwise stated in the item description. Any detail regarding an antiquity that is not known to us, will be noted as such. All artifacts and colltibles are accompanied by an invoice which also function as a Lifetime Certificate of Authenticity. Any item significantly deviating from the information provided by us regarding culture and dating, may be returned for a promp refund excluding shipping and handling. Payment & shipping: Buyer pays shipping & handling costs*: Brt. Weight EU* US & rest of the world 250 gram $17 $19 IMPORTANT: EU-CUSTOMERS PLEASE NOTIFY - SO YOU WILL ONLY BE CHARGED EU-SHIPPING RATES. *We ship by reg. airmail, using Postdanmark as carrier - www.postdanmark.dk YOU ONLY PAY ACTUAL SHIPPING PRICES!! Our shippingrates are in accordance with their standardprices. Check-out the pricecatalogue of Postdanmark here Shippingrates: Weight EU US & rest of the world 50 gram $13 $13 100 gram $15 $16 250 gram $17 $19 500 gram $20 $22 1000 gram $24 $30 2000 gram $30 $39 5000 gram $42 $72 10000 gram $63 $118 15000 gram $75 $176 Combined shipping: If you buy multiple items, you'll only pay one shipping fee. Payment options: Paypal We will convert your final bid from US$ to £ and Euro and accept payment in these valutas and other European valutas at the request of the highbidder. Eurochecks drawn on Euro country banks only. US$ checks drawn on US banks only. ** You can collect your purchases of a period of up to 30 days in one transaction, but please advice. (Credit max. of $1.000 for first time customers.*** Powered by eBay Turbo ListerThe free listing tool. List your items fast and easy and manage your active items.