Search for Items
|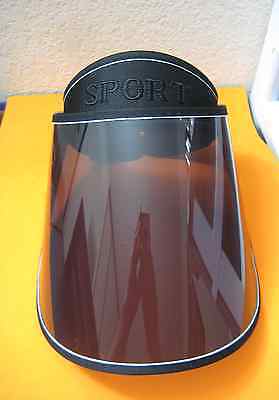 SUN VISOR For Full FACE & HEAD SHIELD MASK Solar Shade Tint UV Protectant HAT !!
$100.00
Ends in 27d 10h
149 Bought
Watcher count unavailable
Seller cloudblowers has 98.5% + feedback, 3048 total feedback on eBay
View cloudblowers's other items
Product: Up for sale is a "Sun Visor For Face & Head". Universal Fitment! One Size Fits All! High Quality! BLACK COLORED! Lightly Tinted Lense! The lense tint is light black/smoke colored. UV PROTECTION SHADE LENSE! **Proper Sunscreen/Sunblock is still always recommended when wearing these visors, ESPECIALLY for purposes of avoiding direct sun exposure** Includes: 1 BLACK Color Sun Visor w/ Lightly Tinted lense (The word "SPORT" is in black colored letters) ** PLEASE CAREFULLY AND SLOWLY PULL OFF CLEAR LENSE PROTECTOR FROM OUTSIDE LENSE OF BRAND NEW VISOR BEFORE WEARING! ** ** PLEASE CAREFULLY AND SLOWLY PULL OFF CLEAR PROTECTOR FILM FROM INSIDE OF THE VISOR LENSE BEFORE WEARING! (otherwise things will look blurry through the lense) ** ** PLEASE CAREFULLY AND SLOWLY PULL OFF BOTH SIDE'S CLEAR PROTECTOR FILM SO THAT IT WILL NOT SCRATCH THE SHADE LENSE! ** **PLEASE DO NOT LEAVE VISORS IN A HOT CAR ON A HOT DAY IN DIRECT SUNLIGHT! ANYTHING WITH SOFT/LIGHT PLASTIC LENSES SHOULD NEVER BE LEFT IN A HOT CAR THAT CAN REACH TEMPERATURES OF 120+ DEGREES FAHRENHEIT** Condition: BRAND NEW! Never worn! Never Used! New with tags! Shipping: Fast and Free shipping to anywhere in the USA! Items are usually shipped out the same day, or the next business day! Please note that it costs about $5.00 USD using my shipping discount to ship one single visor to you within the United States Of America (includes cost of a brand new shipping box as well). **IF YOU PURCHASE AT LEAST TWO VISORS, YOU WILL GET FREE UPGRADE TO USPS PRIORITY MAIL SHIPPING! (USA SHIPPING/CUSTOMERS ONLY)** **VISORS WILL BE SHIPPED IN A CARDBOARD BOX TO PROTECT IT FROM DAMAGE OR BEING CRUSHED!** Feel safe to purchase with me, I have been an eBay seller/member since 2006 and have GREAT feedback! RETURNS:All returns accepted for unused and unworn products.Buyer should contact me within 14 Days after receiving the item.Refund given as Money Back.Return shipping will be paid by buyer .Additional return policy details:If returned, item must be in brand new condition, unused, never worn, and in original packaging. Buyer pays return shipping and is only refunded for product minus original shipping costs. If there is an error in the shipping, then please contact me as soon as possible and we can easily resolve it. CHECK OUT MY OTHER AUCTION ITEMS FOR SALE ON EBAY FOR MORE COLORS!