Search for Items
|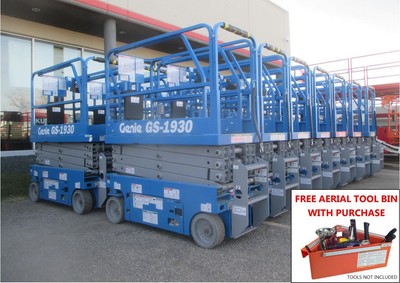 NEW GENIE GS-1930 19 Ft. Electric Scissor Lift - FREE SHIPPING!!!
$11,744.00
Ends in 19d 16h
12 Bought
Watcher count unavailable
Seller acme_equipment has 100% + feedback, 139 total feedback on eBay
View acme_equipment's other items
FREE SHIPPING AMAZING SELECTION UNBEATABLE PRICES SAFE & SECURE BILLING EXPERIENCED SALES PEOPLE PROVEN COMPANY FREE SHIPPING!!! MACHINE OVERVIEW Genie Slab Scissor Lifts Genie® GS™ slab scissor lifts are exceptionally mobile, letting operators easily maneuver around tight indoor and outdoor worksites with firm, level surfaces. Characterized by low noise levels, Genie slab scissor lifts provide excellent capacity and large platform workspace. Genie GS-1930 The Genie® GS™-1930 slab scissor lift is easy to maneuver in tight spaces, has a 25-ft working height, boasts quiet electric, zero-emissions operation and is ideal for indoor and outdoor applications on firm, level surfaces. ModelGS-1930Working Height Maximum25 ftPlatform Height Maximum19 ftLength - Stowed6 ftWidth2 ft 6 inLift Capacity500 lbsLift Capacity - Extension250 lbsDrive HeightFull HeightDrive Speed - Stowed2.5 mphDrive Speed - Raised0.5 mphGradeability - Stowed25%ControlsProportionalRaise / Lower Speed16 / 22 secPower Source24V DC (4) 6V 225 Ah Batteries PHOTOS COMMONLY ASKED QUESTIONS How much does it cost to ship this product? - For a limited time we are offering FREE SHIPPING on this product as long as the customer has a way to unload the product. We suggest a forklift or a loading ramp on site. - AE Where are you located? - We are located in Grand Forks, ND. Acme Equipment is a division of Acme Tools and we have 10 Locations througout Minnesota, North Dakota and Iowa. - AE After ordering, how long does it take to ship and do you have tracking information? - Although we have freight coming in and going out everyday, it usually takes 1-2 days for your product to ship out (weekends and holidays excluded). Before shipping we make sure that the batteries are fully charged and our mechanics do a final checkover before we ship the product. Tracking information is provided on all sales. - AE How long does it take if a product is not in stock? - This is a very tricky quesion. Availability can vary quite drastically depending on many industry factors and sometimes the seasons can impact how long it takes to get a product from the manufacture. Normally 3-4 weeks would be a safe timeline. - AE How cold does it get up there? - I dont want to talk about it! - AE Why should I buy a lift from you? - Great Question... We feel we are making it as easy as possibly for you to purchase a lift. Our price includes shipping so there will not be any suprise charges. -Our selection is 2nd to none! We carry all of the major brands and have more in stock inventory than we know what to do with. Having product on hand is a big part of our success. We are able to do the PDI, Annual inspection and register the warranty all before the lift arrives at your door. - Our sales people have extensive knowledge and training on the many aspects of these lifts. Our mechanics are factory trained and we stock many common parts for these machines. - Acme is an established company (65+ years in business) and with all of the technology nowdays it is nice to know you are buying from a real person / company instead of a "broker" sitting in their basement without the resources to support you after the sale. - Did I mention free shipping? - AE ABOUT ACME EQUIPMENT Acme Equipment is committed to providing the best products to our customers at consistently competitive prices. We offer new and used agricultural and construction equipment, service and rental to our customers with our pledge to your total satisfaction every time you buy or rent from Acme Equipment. Acme Equipment promises a first class shopping experience with knowledgeable sales and service staff committed to a positive and enjoyable customer experience whether shopping in-store or requesting a quote online. Acme Tools offers a world class shopping experience for customer searching for hand tools in all sorts and colors. Shop over 400 different brands, and take advantage of free shipping at Acme Tools.