This eBay listing has ended : SMC Pentax-F 100-300mm f/4.5-5.6 AF zoom lens - nice condition!
Search for Items
|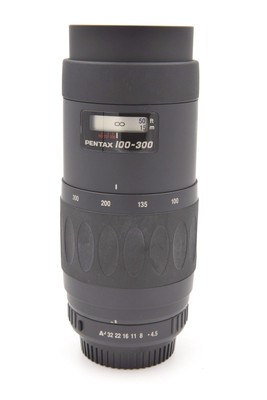 SMC Pentax-F 100-300mm f/4.5-5.6 AF zoom lens - nice condition!
$56.00
Listing ended Sun, October 22, 6:00 pm EDT
27 bids
Watcher count unavailable
Seller pjcamera-photo has 100% + feedback, 706 total feedback on eBay
View pjcamera-photo's other items
This is a used genuine Pentax - F SMC 100-300mm f/4.5-5.6 telephoto zoom lens in very nice condition. The optics are clean, with no sign of scratches or fungus. There are a few internal dust specks - typical of lenses of this vintage. Focus, zoom, and aperture rings are smooth. This lens has been tested on a Pentax digital SLR body and works fine. This lens will work on many K-mount film and digital SLR bodies. Also included is the rear lens cap and a pouch case. ---------- PLEASE READ THE FOLLOWING ----------8% Sales tax applies to IL residents only.Please contact us with any questions.Buyer's shipping address Your name and shipping address should be the same on both eBay and PayPal accounts. We will send your winning item(s) to your confirmed PayPal account address. DO NOT ask us to send alternative address, under eBay/PayPal rules we can only ship to your confirmed PayPal address. Item will ship within 2-3 business days of receiving payment.