This eBay listing has ended : Vintage MINOX 1960s-70's SPY Camera w/ cases, booklet, papers, clains, case.
Search for Items
|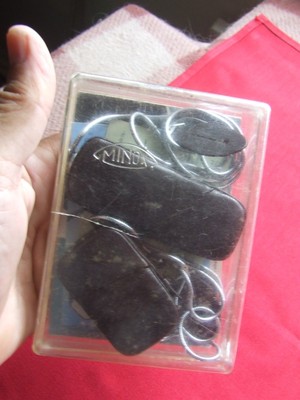 Vintage MINOX 1960s-70's SPY Camera w/ cases, booklet, papers, clains, case.
$91.73
Listing ended Thu, August 17, 8:33 am EDT
22 bids
Watcher count unavailable
Seller privypicking has 100% + feedback, 3231 total feedback on eBay
View privypicking's other items
Up for auction a 1960's-70's small "spy type" camera from MINOX. Comes with all you see in the pictures. There is the outer clear plastic case, approx. 5" x 3 3/4" (a partial crack or two in it), camera, paperwork, booklet, chains on each, leather cases. I assume it in working order, but cant be certain you are buying as found at a local camera buffs sale. ------------------------- PLEASE READ ALL BEFORE OR DURING BIDDING ---- THANKS I ALMOST ALWAYS SHIP PRIORTY MAIL, AND PACK WELL, SO PLEASE DO NOT ASK FOR A DIFFERENT MODE OF SHIPPING, as that can result in items getting to you late or in rare instances not at all. Shipping is what it is. In the event of a overcharge I will refund the difference back to you gladly. Items are not packed up ahead of time so that can vary slightly shipping amounts. I DO ENTERTAIN OUT RIGHT PURCHASE OFFERS SO IF YOU WANT TO GO THAT ROUTE JUST ASK. HOWEVER I WILL NOT SELL OUTRIGHT ONCE A BID HAS BEEN PLACED ON AN ITEM. I DONT CANCEL BIDS OR GRANT FAVORS. All my actions are (5) DAYS UNLESS OTHERWISE NOTED. I TRY AND BE AS DETAILED AS POSSIBE, AND I AM NOT AN EXPERT ON MANY THINGS I SELL, SO IF YOU MUST, ASK QUESTIONS, AND I will try and work with you. In most instances I do not ship outside the U.S. It is just a hassle and rates are high, so sorry about that. All sales are FINAL, UNLESS I TOTALLY MISSED SOMETHING IN THE LISTING. In such cases POSTAGE IS NOT REFUND BACK TO YOU. PLEASE EMAIL YOUR CONCERNS NO MORE THAN (5) DAYS AFTER THE END OF THE AUCTION. IF YOU WAIT LONGER THAT IS YOUR HARD LUCK. --- THANK YOU. I HAVE BEEN A SEELER ON eBay since 2000, and my feedback speaks for itself, with many repeat customers over the years. I invite and want you to check it out --- thanks again!!!!!!!!!!