Search for Items
|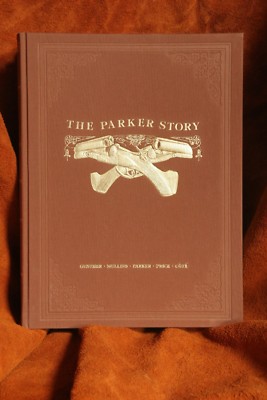 THE PARKER STORY, Vols.1 & 2, 1044 pp, Parker guns and family. New & unopened.
$350.00
Ends in 15d 10h
3 Bought
Watcher count unavailable
Seller foxlaire2 has 100% + feedback, 472 total feedback on eBay
View foxlaire2's other items
"The Parker Story" Vols. 1 & 2 Buy Now @ $350 (Signed by the Publisher & 10% ($35) Goes To Our Wounded Warriors !) Click On "See Other Items" - We'll Send Our Current '18 176-Page Issue of Double Gun Journal (DGJ) with Any Of Our Books You Buy - FREE ! Only Joanna and I (as Double Gun Journal founders & publishers Since 1989) Can Sell DGJ subscriptions, ALL BACK ISSUES (since '89), and all our books in Brand New First Edition Copies. -- Buy "The Parker Story" Volumes 1 & 2, 1044 Pages, Books Measure 9-1/4" X 11-3/8" Brand New & Only Volume 1 has been unsealed for publisher's signature). Not Sure What We're All About -- What We've Been About Since the Winter of 1989 ? Send For A Current Issue @ $15 Postpaid and You'll be Delighted or We'll Refund Your Money. ******************** I N A P P R E C I A T I O N ******************** DGJ Is Dedicated To The Best Guns, Men, & Women On Earth --- 10% Of Every Purchase goes to our Wounded Warriors ! ***** ***** ***** Back Issue prices begin at $15 ea. postpaid for Issues published 2014 thru 2017. You will find Prices And Contents for All Available Issues (1989 thru 2017) Listed in all Current Issues. Unless You Request a Specific (2014 thru 2017) Issue(s), We Will Ship the Most Current Issue Available @ $15 ea.--- CLICK EBAY'S "CONTACT SELLER" IF YOU HAVEANY QUESTIONS!