Search for Items
|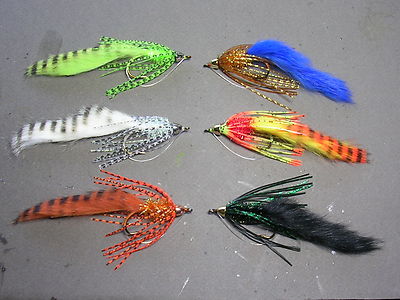 BASS CRAWLERS - KILLER largemouth, smallie and Pike flies!!!
$17.89
Ends in 15d 18h
657 Bought
Watcher count unavailable
Seller texperd has 100% + feedback, 14578 total feedback on eBay
View texperd's other items
Update 5/11/2014 from a customer-friend: "wanted to tell you that I caught my first fly fishing fish today on one of your flies. 60 years old and new to fly fishing. I have a lot to learn but doubt I'll ever forget that 1st one. I had 2 rods made and bought most of what I'll need. what a difference from the bass and musky fishing I've done for 50 years. thanks." More people are asking for color assortments of my Bass Crawlers so they can see which colors work best in the their local waters. I've adding two different assortments to my Ebay Store. These Bass Crawlers are my best selling bass flies year after year. I tie them on a wide-gap #1/0 bass hook with a stiff mono weed guard. They are 4" long. The best way to fish these is to cast to or by structure, let it sink to the bottom, aim your rod tip at it, take out all the line slack, then S-L-O-W-L-Y crawl it back to you. You'll feel it bumping and tapping the bottom then BANG! You can also stream it past structure and along the weed line. The copper cone head will make it a little jiggy. If you fish for the big bass, you'll like these. SIX flies included as in the photo.