Search for Items
|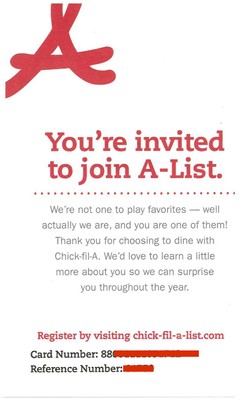 Chick-Fil-A VIP A-List Membership Invite Card! Free Fast Food Treats Gifts App!
$20.00
Ends in 26d 6h
159 Bought
Watcher count unavailable
Seller fryfishing has 100% + feedback, 681 total feedback on eBay
View fryfishing's other items
You are purchasing an invite into the VIP A-List program at Chick-Fil-A. I will mail you the pictured card that includes a unique card number and reference number for signup online. Once you signup, you will receive all of the invite only club benefits! Does not expire! Accepted nationwide! Check my feedback from many happy A-listers. The perks vary greatly by location and how often you visit but some examples may include: Free food offers! Insider news release In-restaunt invite only events Exclusive experiences in your area! Unique silver color A-List card in-appLearn more at the chick-fil-a-list.com site! Or #chickfilalist on social media!