This eBay listing has ended : CMC PL-65 HS Hydraulic Jack Plate, New in Box w/o Gauge HS (High Speed) Model!!
Search for Items
|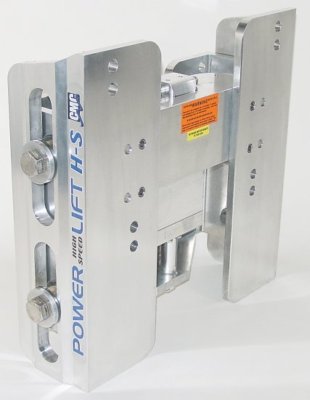 CMC PL-65 HS Hydraulic Jack Plate, New in Box w/o Gauge HS (High Speed) Model!!
$729.99
Listing ended Tue, August 28, 6:11 pm EDT
197 Bought
Watcher count unavailable
Seller ascsale has 100% + feedback, 2390 total feedback on eBay
View ascsale's other items
Plate will be sent Signature Required This is the Hi Speed model. Make sure to compare features when looking. We do not sell the older, slower version of these jackplates. Don't be fooled!! PL-65 HS 5-1/2" Set-Back High Speed Hyd Jack Plate (Item #65302) ***NEW*** Features Of Patented Hydraulic High Speed Power-Lift® Full Stroke in 8 seconds! (U.S. Patent 4,482,330) 1. Made of 3/4 and 1/2 inch 6061 T6 alloy aluminum extrusions and fastened with stainless steel fasteners. Ideal for fresh or salt water use. No welds or castings to break. 2. The dependable self contained and water proof high speed hydraulic actuator has a max. lifting capacity of 4417 pounds of thrust. You will have no problem lifting even a V-6 300 hp max. motor at full throttle. The hydraulic actuator is mounted inside the structure of the Power-Lift, yet it is fully accessible without removing the engine. There are no hoses to contain, nor will you have to contend with mounting a pump and reservoir inside your boat, as is the need with other transom jacks. The hydraulic actuator is completely self-contained with its own fluid reservoir (eliminates the need for hydraulic tank and hoses inside the boat). It contains a permanent magnet motor for more power and constant torque. The cylinder within the actuator has more lifting capacity than other transom jacks on the market. It contains a no-leak seal and wiper that keeps dirt and water out of the working parts. The system is made of 100% non-ferrous material which makes it impervious to saltwater and freshwater. 3. The patented roller design means less friction, longer wear, less maintenance, and virtually no binding problems which are common with other transom jacks. The roller assembly contains a stainless steel 3/4" pin with aluminum-bronze alloy rollers. The roller is highly impact resistant, corrosive resistant, and has a high load carrying capacity. This patented design virtually eliminates any chance of binding which is common with other transom jacks. The PL-65 HS is rated for V-6 motors and smaller and gives you 5" of vertical travel with 1-1/2" of adjustment on the motor bracket and 1-1/2" of adjustment on the transom bracket. A TOTAL OF 8" OF POSSIBLE ADJUSTMENT! Comes with all necessary wiring and mounting hardware, this means that yes it comes with mounting bolts, yes it comes with wiring harness, yes it comes with toggle switch, yes it comes with relays. Georgia residents must pay 7% sales tax. Local pickup is available at no charge, 7 days a week, contact me for info. We do not accept paypal payments that originate outside of the United States, nor do we ship outside of the United States,sorry. There are no exceptions. If you live in Canada, I can't ship to you, sorry. We ship UPS daily, and most items paid for before 3:00 eastern leave the same day. Tracking information is forwarded through paypal. Thanks for looking. We do not list items for sale that we don't have in stock. We aren't relying on an outside distributor to fill our orders, everything we have listed is available and ready to ship! Make sure to read the fine print on competitor's ads!! Powered by eBay Turbo Lister The free listing tool. List your items fast and easy and manage your active items.