Search for Items
|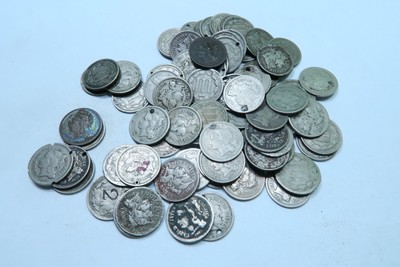 (3) Different 1865-1881 Three Cent Coin (3 Cent) Lot // 3 Coins // WITH DATES!
$11.38
Ends in 12d 11h
383 Bought
Watcher count unavailable
Seller north-east-auction has 99.3% + feedback, 38426 total feedback on eBay
View north-east-auction's other items
(3) Three Cent Coin Lot **THIS NEW BATCH DOES NOT HAVE HOLES!** Description: Three Different dated coins. EACH COIN WILL HAVE A PARTIAL - FULL DATE but will have some type of problem as pictured. 3 Coins Per BuyNow. Coin Type: Three Cent Composition: Date: Mint: Mintage: Condition: ********************************************************************************************************** We accept PayPal as a Payment Method, Please contact us for other payment options. All Items will ship Via USPS Mail. Shipping cost will be based on our actual shipping cost. Signature Confirmation and Insurance will be applied based on value when applicable. We will combine shipping cost to the best of our ability when items are on the same invoice. Any grade indicated is our best judgment, unless it has been graded by a third party grading service. 14 Day return policy on all items. The item must be returned in the original 2x2 flip, roll, wrap, etc. Items removed, altered or re-sealed are considered sold and the return privilege void. North-East-Auction // North Dollar Numismatics VISIT OUR STORE FOR OTHER GREAT ITEMS!