Search for Items
|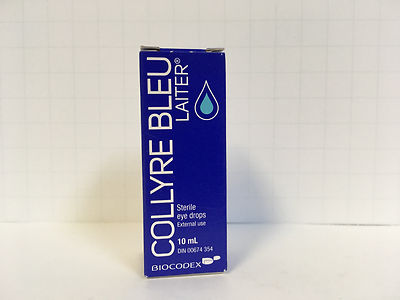 ORIGINAL Collyre Bleu Blue Laiter Eye Drop - 10ml - New Packaging, Same Formula!
$30.08
Ends in 21d
3496 Bought
Watcher count unavailable
Seller runwaybeautytrends has 99.4% + feedback, 57186 total feedback on eBay
View runwaybeautytrends's other items
**Original** Collyre Bleu de Laiter Eye Drops - 10ml Bottle (Sealed) ALSO KNOWN AS BLUE COLLYRIUMNEW PACKAGING, SAME FORMULA AND SKU NUMBER THIS IS THE ORIGINAL COLLYRE BLEU EYE DROP, PLEASE DO NOT BE CONFUSED WITH OTHER BRANDS ON THE MARKET Whiter, Brighter Eyes with Collyre Bleu by Laiter Eye Drops! Whether your eyes are brown, green or blue make them their brightest with the Original Collyre Bleu de Laiter! Just 2 drops a day for eyes that will light up your face all day long. This eye drop was created to remove the yellow in the whites of the eye. Collyre Bleu Laiter is tinted blue to make the whites actually appear brighter. The blue drops make eyes cleaner, clearer and more youthful. These drops are great for ANY eye color. Since their introduction, they have been a tightly guarded secret used by make-up artists in Hollywood to get the red out of a clients eyes in mere seconds. This amazing product is now available to the public. Collyre Bleu eliminates redness due to allergies, fatigue, smoke and medication. It increases the appearance of awakeness making you appear more alert, and enhances the intensity of your eye color. We recommend putting a drop in each eye and then waiting 15 minutes. Then look in the mirror and see the difference! Its best to avoid using these eye drops when wearing soft contact lenses as the blue may tint the lens. 1-10ml bottle used daily will last for 2-3 months. Expiration Date: FRESHEST STOCK 05/2019 -- Instructions Included. Made by Biocodex, France **All of our products are guaranteed fresh, new & 100% authentic!