This eBay listing has ended : Amazing Fantasy #15 CGC 9.2 A-3 Stunning Copy! 1962 Spider-Man
Search for Items
|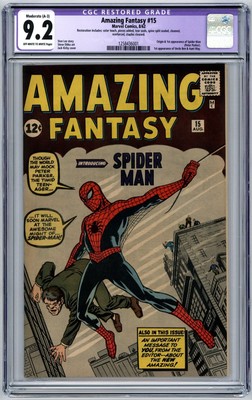 Amazing Fantasy #15 CGC 9.2 A-3 Stunning Copy! 1962 Spider-Man
$24,100.00
Listing ended Mon, March 19, 10:30 pm EDT
57 bids
Watcher count unavailable
Seller wunderbid has 100% + feedback, 948 total feedback on eBay
View wunderbid's other items
Amazing Fantasy #15 CGC 9.2 A-3 (Moderate Professional) 
 This is easily the most gorgeous copy we've ever seen, please be sure to have a look at all the scans and images. We are constantly listing new books. Prices are lowered every few days until they sell. 
 1-cent auctions run every Monday night starting at 9pm EST. 
 Click here to save us as a favorite seller. By doing so, your eBay homepage feed (and app) will update with our latest books and reduced prices. 
 Thank you for visiting!