This eBay listing has ended : SKINZIT ELECTRIC FISH SKINNER FS1000A *FREE* CARRYING BAG! GLOBAL SHIPPING!
Search for Items
|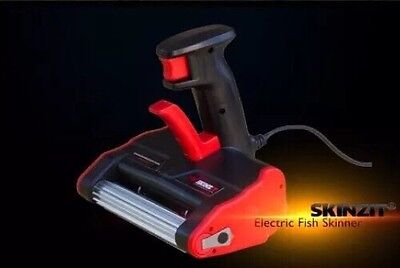 SKINZIT ELECTRIC FISH SKINNER FS1000A *FREE* CARRYING BAG! GLOBAL SHIPPING!
$149.95
Listing ended Sat, March 17, 1:07 pm EDT
16 Bought
Watcher count unavailable
Seller c_biscuit has 100% + feedback, 1034 total feedback on eBay
View c_biscuit's other items
Skinzit® Electric Fish Skinner by Ultimate Fishing Gear *FREE* 14.5" x 14" DRAWSTRING CARRYING BAG Cleans fish in half the time, with no waste Quickly removes rib bones and skin from your filletFully automatic and simple to operateEasy to clean with the removable intake wheel So easy to use, even kids are doing it! One quick swoop of the Skinzit, and all rib bones are removed...every time! Quickly remove rib bones and skin from your fillet in two simple steps with the Skinzit Electric Fish Skinner – without losing meat in the process. The first pass rolls out the rib bones and the second pass removes the skin in half the time it takes by hand.... WITH NO MEAT WASTE! Fully automatic and easy to operate – simply press the hand lever and squeeze the trigger. Removable intake wheel makes for easy cleanup. Plugs into U.S. standard 110 AC wall outlet. Works well on: walleye, perch, bluegill, crappie, bass, catfish, and virtually any other species. FREE DOMESTIC SHIPPING! Thank you shopping my Ebay store, BAD Bait and Tackle. Fishing tackle, equipment, accessories and more!Featuring The Skinzit,world's first electric fish skinner! https://stores.ebay.com/badbaitandtackle My first priority is your satisfaction, and I strive for 100% positive feedback. All items are shipped within one business day.