Search for Items
|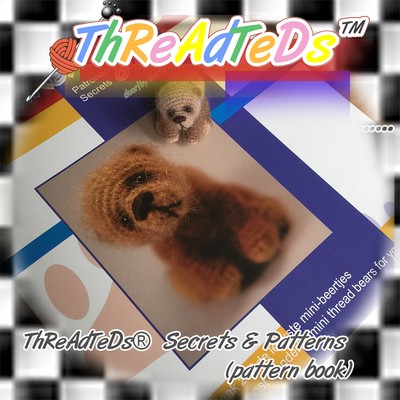 ThReAdTeDs® pattern book crochet wonderful artist mini thread bears yourself !!
$25.00
Ends in 16d 19h
4 Bought
Watcher count unavailable
Seller threadteds has 100% + feedback, 1282 total feedback on eBay
View threadteds's other items
        ThReAdTeDs®     Pattern Book.. Published 2004     The most wonderful thread bears for you to make                               The book is A4-format, 72 pages and printed on heavy paper. Dutch and English language. (German translation can be added on request). The includes 6 brand new crochet patterns: 5 bears and a golly/doll. Teaches you  various styles and shapes (see below the speciality of each design). It also includes a lot of information about how to finish your miniature bear and/or friend and 8 full color pages with lots of pictures.         The patterns in the book are for         GUMPY (head and body in one piece, seperate muzzle),         PIP (fully jointed),         JEROME (slightly bent arms and legs).         For SPIKE ( bear on all fours, with hump and little tail) !!         For SARAH (learn how to make a wobble joint, and clothes incorperated to the body)         and at last GOLLY/DOLL (designed after the vintage rag dolls)       Patterns in this book are  designed by Berta Hesen-Minten for ThReAdTeDs®.         The patterns described in this book are all different from those ThReAdTeDs® patterns previously published.         More ThReAdTeDs® patterns for the beginner, intermediate and advance available in my ebay Store.         ThReAdTeDs® patterns and designs always one step ahead . Original, Creative, and  Unique!         2000-2016 ©       If you may have any questions while working with the Original ThReAdTeDs® patterns  I am always happy to help if needed.     HAPPY CROCHETING!!