Search for Items
|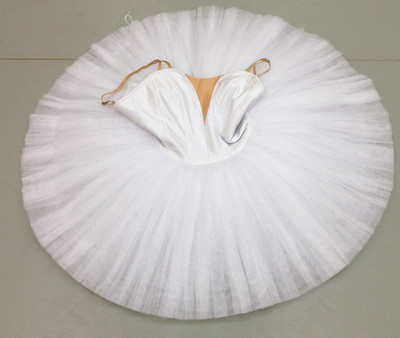 Professional Platter Classical Ballet Tutu Costume Without Decor MTO 6-8 Weeks
$290.00
Ends in 25d 15h
8 Bought
Watcher count unavailable
Seller stilltorbiting has 100% + feedback, 1159 total feedback on eBay
View stilltorbiting's other items
Professional Platter Ballet Tutu (Without Decor)Chart & Custom Size/Color(s)Made to Order/Not in Stock 6-8 weeks for delivery (production exception: These are usually not produced during certain times in the winter, so please enquire for timing.This listing is for a custom made professional ballet tutu made to your specifications in your choice of size & color!  This basic costume can be sewn for you in both child & adult sizes & can be made to your personal measurements.  This tutu may also be produced with a skirt that is a different color than the bodice for an additional fee.  Available colors in many colors. Do not hesitate to enquire about color options & production time.  This tutu is a beautiful basic & features all the stunning lines & classic qualities one would expect for a professional stage costume or as a competition costume.  It is the perfect blank slate for your own decorations.  The skirt has many layers of stiff high quality tulle are properly tacked & stitched together, so that the tutu forms a plate & does not fall down.  There is no hoop, which allows for easy transportation.  The costume is flexible & perfect for unrestricted movement & growing dancers.  This is a YAGP quality costume & may be used for festivals, prestigious competitions or Seal exams.  It has hook & eye closures to be somewhat adaptable & has a bit of stretch in the material.  Tutu has one row of hooks & two rows of eyes.  Bodice has 8 panels (in adult sizes) & a nude insert.  It also has a  hidden drawstring cord to create an ideal fit.  You must measure yourself or the dancer to get a clear understanding of fit.  This costume is not returnable, so please double-check those measurements!  If you have questions, please contact me prior to purchase.  I am glad to assist you as best as I can.  You will want to measure bust, waist, hips (fullest area), girth, back length & total height, if intending to buy a customized tutu that is made to your measurements.  There is a size chart for dancers who fit the standard sizes.  It is best if you send me your measurements in centimeters, for the most accurate fit possible.  Measurements in inches are also accepted, of course. :)  Please have them readily available, as production cannot start until all measurements have been received & payment has been made in full.  The fabric is semi-stretchy & the bodice is adjustable with the 2 sets of hooks & so it will fit + or - 3 cm of the measurements you supply.  You can send me your child's measurements, as well.  I can see if she fits into one of the children's sizes from my chart.  Drop shipping is always a method I may use to expedite your delivery.  I frequently use this shipping method to ensure the fastest delivery possible.  There is no additional fee for drop shipping.  It will be used at the seller's discretion.
Production time varies throughout the year & based on the size & details of your order.  The tutu is handmade, so you will want to allow enough time for your tutu to be produced & delivered. It is best to plan in advance & or message me for details before purchasing.  Be sure to contact me if you need a rush order to see if it is possible.  I can have the costume(s) drop shipped to expedite the process or I can have it drop shipped & you can pay an additional fee for expedited shipping.  Buyers ordering MTO/in advance & requesting 10 or more costumes will receive a volume discount off the "buy it now" price, if contacting me prior to purchase. Thank you for looking!
Be sure to add me to your favorites list!Check out my other items!