Search for Items
|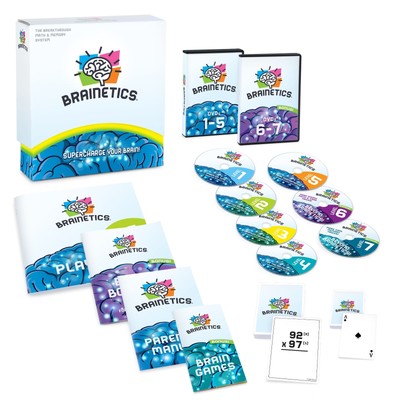 New and Updated Brainetics Enhanced Program! Buy direct from the creator!!
$49.00
Ends in 3d 10h 2m
77 Bought
Watcher count unavailable
Seller braineticseducation has 100% + feedback, 12 total feedback on eBay
View braineticseducation's other items
Get ready to SUPERCHARGE your brain with the Award Winning Brainetics! We are the only official seller on Ebay. Brainetics trains your mind to focus, concentrate, improve organizational skills and memory in a really fun and cool way. It starts with math and numbers and then transfers to letters and words. Basically, Brainetics does not teach you what to learn, it teaches you how to learn and reach your full potential. Three powerful reasons that make Brainetics work so well: 1. Brainetics teaches how to MASTER all the vitally important learning SKILLS (focus, concentration, problem solving, thinking outside the box, organizational, increased mental capacity and memory) that are rarely taught in schools and people lack throughout their lives. 2. Brainetics TRAINS two different parts of the MIND to work simultaneously yet independently of each other. One part memorizes information while another part is sorting and processing new information. The mind will begin to work much more efficiently and be more powerful giving Brainetics kids a huge advantage throughout their academic lives and beyond. 3. Brainetics is INCREDIBLY FUN. Brainetics will never seem like a chore and everything is very fun and cool to learn for all ages and ability levels. Brainetics can either be learned alone, or entire families can learn together. The Brainetics program includes: A set of 5 fun, entertaining and engaging DVDs that gradually get more challenging and involved as the program progresses. A specially-designed, custom Brainetics playbook that explains each lesson provides practice space and helps the individual understand each section. One set of 52 custom Brainetics flash cards that help processing speed and lesson comprehension. One deck of playing cards that are used to increase mental speed, pattern recognition and focus. A 'Parent Guide' that explains the goals of each lesson, what to expect and how to become involved in the learning process. AND...BONUS DVD'S: DVD 6 is a review of all the other DVDS but with 100 percent new material. Since this DVD covers some of the skills taught previously, we recommend that you do not learn this DVD before you complete the set. DVD 7 is all about empowering your memory.