Search for Items
|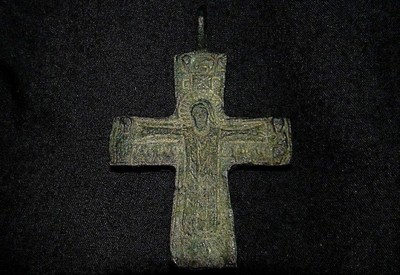 Byzantine Bronze Cross Depicting the Risen Christ! Absoltuely Stunning and Rare!
$31.00
Ends in 1d 22h 7m
9 bids
Watcher count unavailable
Seller anaktisi_historia has 100% + feedback, 130 total feedback on eBay
View anaktisi_historia's other items
ABSOLUTELY STUNNING PIECE OF EARLY BYZANTINE HISTORY CIRCA 10TH CENTURY AD EARLY BYZANTINE BRONZE CROSS DEPICTING A RISEN CHRIST FLANKED BY ANGELS! PIECE MEASURES 73MM X 48MM X 3.5M FINE TO EXTRA FINE CONDITION NICE MEDIUM GREEN PATINA THANKS FOR VIEWING THE AUCTION AND THE BEST OF LUCK BIDDING! ALL PAYMENTS ARE DUE WITHIN 2 DAYS OF THE AUCTION ENDING THANK YOU!