Search for Items
|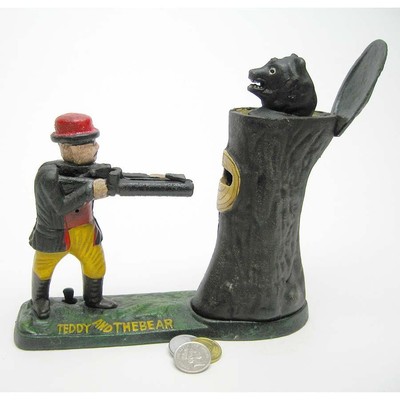 Classic Collectible American President Theodore Roosevelt Bear Statue Collect...
$67.30
Ends in 25d 6h
1 Bought
Watcher count unavailable
Seller xoticbrands has 100% + feedback, 1741 total feedback on eBay
View xoticbrands's other items
In this collectible, mechanical toy bank, a bespectacled Theodore Roosevelt shoots his coin into the tree and is surprised by a fullsized bear popping out! This replica novelty celebrates the wellknown hunting prowess of the president and the namesake of "Teddy" bears that were wildly popular during his era. Originally created by the J & E Stevens Company of Cromwell, Connecticut in 1907, this Design Toscano hand-painted, heavy cast iron, classic vintage collectors' replica is cast from an antique bank mold with authentic die-cast metal construction. Metal turn stopper allows for coin removal. 9"Wx3"Dx8"H. 6 lbs. Design Toscano Collectors' Die-Cast Iron Mechanical Coin Banks Cast Iron banks have long been treasured collectibles, popular in Renassance Europe and even found among the tombs of ancient civilizations. In the US, mechanical banks became a household staple as 18th-century parents sought to reinforce Benjamin Franklin's aphorism: "A penny saved is a penny earned." After the Civil War, toy mechanical cast-iron models were produced en masse until about 1930. Operating with the drop of a coin or the push of a lever, these clever banks, produced in hundreds of different themes, sizes and personalities, were at once functional, decorative, and a delight to the eye. "Still banks"-so called to differentiate them from banks with mechanical parts-have also long been collectors' favorites. Because sought-after mechanical coin banks can bring more than $50K at auction, collectors have turned to fine replicas as a more affordable way to satisfy a love for these witty, novelty, cast-iron replica works. In fact, reports indicate that even replicas are growing in value! Design Toscano offers a plethora of novelty mechanical banks to launch or supplement a proud collection.