Search for Items
|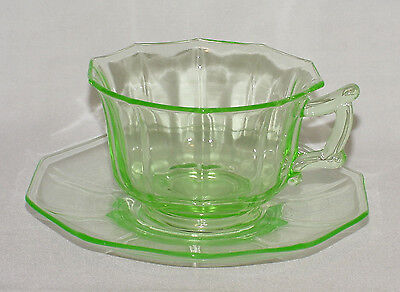 PERFECT Vintage Green Cambridge "DECAGON" Cup & Saucer - 5 Available!!
$8.95
Ends in 6d 22h 10m
4 Bought
Watcher count unavailable
Seller dhphilly has 100% + feedback, 3769 total feedback on eBay
View dhphilly's other items
Up for sale is an absolutely perfect hard-to-find vintage green depression glass cup and saucer in the "Decagon" pattern by Cambridge Glass! Cambridge made the Decagon pattern during the 1930s, and they used it for several of their most popular etched patterns (Cleo and Rosalie are just two). There are five of these cup/saucer sets available for sale in this auction - the bid price is for one set, and the buyer has the option of taking other sets if desired. All five sets are as close to immaculate as they can get – there are no chips, cracks, flakes, fleabites, nicks or roughness anywhere, and the glass is nice and shiny bright with no oxidation, utensil scratches or stains. The Cambridge mark is embossed on the back of each piece. They look as if they've been packed away somewhere for the last 80 years and never used! They have a fantastic Vaseline/uranium glow when they're exposed to blacklight, and they're absolutely guaranteed to be vintage – not reproduction or new glass. The Decagon pattern can be seen photographed either in Coe's "Elegant Glass – Early, Depression & Beyond", or in Gene Florence's "Elegant Glassware of the Depression Era". The winner will pay shipping and insurance (insurance is automatically included in the shipping calculator as a "handling fee" unless otherwise requested). Shipping will be combined for the winner of more than one item whenever practical. Shipping is normally within 24 hours after receipt of PayPal payment (if other payment options are desired, please don't hesitate to inquire). Please feel free to e-mail any other questions or requests for additional photos, and thanks very much for looking!! Be sure to see my other fantastic items by clicking on the "see other items" link above.