Search for Items
|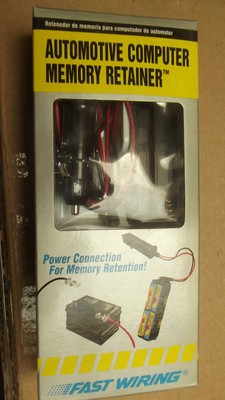 1 AUTOMOTIVE COMPUTER MEMORY RETAINER MADE BY CALTERM.4.1.WA.
$12.99
Ends in 10d 2h
4 Bought
Watcher count unavailable
Seller laoc_apm has 99.8% + feedback, 8645 total feedback on eBay
View laoc_apm's other items
YOU ARE BIDDING ON 1 AUTOMOTIVE COMPUTER MEMORY RETAINER MADE BY CALTERM ,AS SEEN IN PICTURE.PART #;66-312.(4.1)WA. EMAIL US THROUGH EBAY FOR LARGER QUANTITIES. Normal 0 ***ATTENTION VALUED BUYERS*** : WE COMBINE SHIPPING, SOME ITEMS ARE NOT COMBINABLE OR ALREADY COMBINED AS 2ND,3RD,4TH ITEM DISCOUNTED. * IF MULTIPLE QUANTITIES OF THE SAME ITEM THAT HAVE ALREADY RECEIVED DISCOUNTED SHIPPING ON THE 2ND, 3RD, 4TH ITEM AND SO ON, THERE WILL BE NO MORE COMBINED SHIPPING DISCOUNT. PLEASE FIGURE OUT YOUR COST OF ITEM THROUGH TOTAL AMOUNT PAID.* *ITEMS PAID FOR ON FRIDAY AND SATURDAY WILL BE PROCESSED ON MONDAY.* *ITEMS BOUGHT AND PAID FOR ON SUNDAY & HOLIDAYS WILL BE PROCESSED AND SHIPPED THE SECOND BUSINESS DAY.* *We also ship, through USPS only,to Alaska,Hawaii and Post Office Boxes, we do not ship to excluded shipping locations; see excluded locations.* NO RETURNS. Items are in new condition, never used*unless stated so*. We ship to the address given by ebay/paypal .Please make sure your address is final. We do not change address afterwards, it is confusing and time consuming. If your mailing street address exceeds 40 characters, please shorten it before you re-give it to eBay, or your item may not be shipped (eBay printing will not accept it, despite their issuance of long street addresses). We ship our items within 2 days or faster with USPS confirmation, after payment is received. PayPal payment only(California residents pay local applied sales tax of Orange County 8%).In order to serve you better, immediate payment is required. We appreciate your business and we expect you to leave us a full 5 star positive score on feedback as we will automatically leave feedback for you. Thank you. Beginning January 2014, we will be using UPS Ground Service, too (to within the 48 states only) for large volume and heavier items and to residential and commercial sites. All UPS shipments will be shipped as residential ,for safer delivery and to avoid buyers' mistakes giving commercial addresses for residential ones. No changes of address are accepted. Time of shipping with UPS Ground Service differs from USPS.We still ship within 3 business days or faster with UPS. No shipping to P.O.BOXES with UPS. *WHEN YOU CHECK ON AN ITEM TO BE SHIPPED BY UPS, YOU NEED TO GIVE US YOUR COMPLETE MAILING ADDRESS, INCLUDING ZIP CODE, IN ORDER TO QUOTE YOU SHIPPING & HANDLING CHARGES. MAKE SURE YOU GIVE US THE RIGHT ADDRESS BECAUSE MOST OF THE TIME, WE PRINT A LABEL AND SHIP RIGHT AWAY WITH NO DELAY, HENCE WE CAN NOT CHANGE THE ADDRESS* *Since we do not ship to the excluded shipping locations and you buy your item in the United States, you agree to leave us a 5 star positive feedback upon receiving the item as described and in good condition at the point received in the states. We are not responsible for the condition of items sent to any excluded location by the buyer, and that means you violated our policy. If an item is received and checked OK as described, your positive feedback is highly appreciated. If an item is late and not received, contact seller and ask about the status of the item. You need not open a case for such a thing, we are here to help you and ourselves, and we always track our items after being shipped. On holidays and weekends, USPS gets jammed with items shipped and some times the weather does not help them to deliver items fast. Please be understanding. Once we ship an item and deliver it to the post office, it is then in their hands how fast to deliver it ; please be logical and do not give us a low score on shipping time. Look at the time delivered to the post office; if the item is delivered to the post office later than 2 business days after its purchase (this excludes Fridays, weekends, and holidays). For example, an item bought on Monday by 5:00 pm should leave our warehouse before 5:00 pm on Wednesday. If it does not, then you have the right to act on that delay, but please be fair. USPS does not ship during the day; they ship the items late in the evening. If you go to track a shipped item and you see a grey line with no new status, it means that the item was delivered, but does not have a new status. Some times the item shows no movement at all and worries you. It will later show that it is delivered and that is because no one scanned it on the way to your location, but it was scanned when being delivered. If you live some where you know it is unsafe to leave an item in your mail box, on your porch, or anywhere on your premisses, get a postal box to receive your items safely. Once an item is tracked delivered to your address, our duty and responsibility stops and should stop when the item moves from USPS where it was delivered. We did our professional part. If an item is to be picked up locally,please pre arrange for time of pick up since we do not open to the public all the time & we need time to get it ready for you. Thank you for your business,laoc-apm. This seller will be away from Thursday noon 6-16-2016 until Monday morning 6-20-16. All items bought during this period from Thursday 6-16-16 to Monday 6-20-16 will be shipped on Tuesday 6-21-16.