Search for Items
|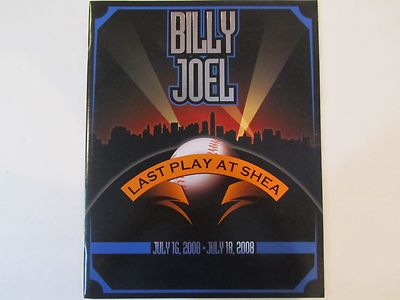 NEW Billy Joel LTD Last Play @ Shea Program Free Ship!
$72.52
Ends in 1d 18h 3m
8 Bought
Watcher count unavailable
Seller nicecrybaby has 99.6% + feedback, 5073 total feedback on eBay
View nicecrybaby's other items
1 Brand NEW LIMITED EDITION Billy Joel Last Play At Shea Program (the one that you can only get at the concert!) THIS Program is in perfect condition, very rare because of the way the manufacture ships the item. A great collectible! All 32 pages of this program are in full color. The program contains live photos of Billy Joel and his band on stage, career spanning photos along with some personal photos of Billy Joel and many quotes about what the Last Play At Shea shows mean to him. A wonderfully done collector's item. And if your a METS fan, how can you let this pass? Please view my other auctions as I have more Billy Joel Merchandise from the LAST concert at Shea Stadium. Thank you. On Dec-30-13 at 17:39:25 PST, seller added the following information: FREE! Sellers: Add a FREE map to your listings. FREE!