This eBay listing has ended : Handmade Memory/Keepsake Bears/Animals
Search for Items
|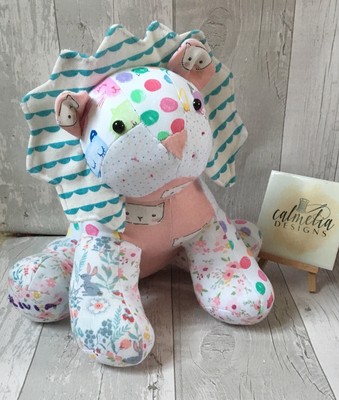 Handmade Memory/Keepsake Bears/Animals
$45.99
Listing ended Sun, August 19, 6:07 pm EDT
1 Bought
Watcher count unavailable
Seller lrei9457 has 100% + feedback, 745 total feedback on eBay
View lrei9457's other items
Still got your baby's first outfits and not sure what to do with them? Or maybe it's a loved ones clothing that you'd like making into a keepsake? Why not cherish them forever by having them made into a teddy bear or animal. If you don't see what you're looking for then please message me. These are just a few examples of what I make. Embroidery of names, dob, birthweight is included in the price. 
If you would like the items to match your baby's birthweight then there will be an additional cost of £3.00 per kg for the pellet weights. 
The utmost care will be taken over your items and any unused or leftover pieces will be returned to you. Please note that these are purely keepsakes and currently NOT to be used as toys. These are bespoke items and so each one will be slightly different. The postage might be slightly more for weighted or multiple items. I'll do my best to combine where possible. You can view more pics on my Facebook page (Calmelia Designs) Thanks for reading.