Search for Items
|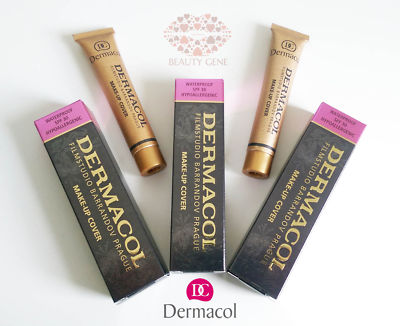 DERMACOL HIGH COVER MAKE UP FOUNDATION LEGENDARY FILM STUDIO HYPOALLERGENIC !
$12.69
Ends in 5d 2h 59m
18640 Bought
Watcher count unavailable
Seller brand_media has 99.0% + feedback, 36937 total feedback on eBay
View brand_media's other items
EBAY_Template DERMACOL MAKE UP COVER DISPATCH We always aim to dispatch goods on the same day if possible or within 1 working day of cleared payment. Please do contact us if your order is delayed. We will still do everything to resolve any problems FEEDBACK Our aim is to provide, good value, quality products with an excellent service. Please contact us before leaving negative or neutral feedback to give us a fair chance to rectify any problems. Thank you. PAYMENT DERMACOL MAKE-UP COVERLegendary high covering make-up Remember. There is only one original you can trust ! BENEFITS:WaterproofHypoallergenicFor all skin typesSPF 30Preservative free COVERAGE: Full (extreme)The clinically tested, extreme covering Make up Cover was created as the first of its kind in Europe and one of the first in the world. The license for this foundation was eventually sold to Hollywood. It contains 50% pigments, which makes it a weapon against skin imperfections. DERMACOL MAKE-UP COVER provides PERFECT COVERAGE even in thin layers and is the perfect corrector for dark under-eye, unpleasant spots and skin blemishes. It completely covers acne, loss of pigmentation, post surgical bruising, tattoos etc. It may be used on the entire face or body for color correction, darkening or lightening the skin tones, and ensuring ideal balance. It is widely used as a professional make-up for photo or film shoots, modeling and for festive occasions.Volume: 30 gUSEChoose the right color shade for your skin. Gently tap the make-up onto your skin with either your fingers or with a damped make-up sponge. Apply the Dermacol Make-up Cover gradually by first using a small quantity and then add as needed until all skin problems are covered. (the Make-up Cover has a rich consistency and provides extreme coverage. Therefore, it is important to apply the make-up evenly). RESULTSDermacol Make-up Cover provides outstanding coverage with a natural looking finish for your entire face and body. Your skin will be well balanced and have a velvety matte appearance. Check out our other listings.