Search for Items
|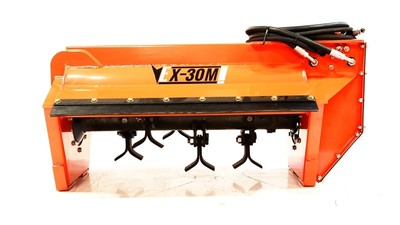 Eterra EX-30 Micro Excavator Brush Mower - Bobcat Excavator Flail Mower!
$6,795.00
Ends in 17d 11h
1 Bought
Watcher count unavailable
Seller skidsteersolutions has 100% + feedback, 1652 total feedback on eBay
View skidsteersolutions's other items
Eterra EX-30 Micro Excavator Brush Mower Click on Thumbnail to Enlarge Eterra EX-30 Micro: Mini Excavator Heavy Duty Brush Mower Designed for Mini Excavators, the Micro packs a lot of punch into a small and lightweight package. In fact, the EX-30 Micro is the lightest mower in the 30" class. At 320 lbs., the Micro can be operated on the smallest excavators, but still provide awesome performance. It is designed for mini excavators weighing in at 2200 lbs. to 7000 lbs. with flow rates from 5 - 20 GPM. With the ease of use and the compactness, you will be able to access the smallest of properties and mow small brush, berry bushes and grass with the most compact of excavators. The EXM-30 Micro is specifically designed to have a low swing weight to allow the smallest excavator to have the maximum reach without becoming unstable. There just is nothing else like it. Please note that the Micro comes with a blank universal mounting plate. The customer is responsible for mounting the specific coupler required for your excavator. Due to the high speed and pressures involved, a case drain line is sometimes required to operate this implement. A case drain is a low pressure line that travels from the mower head back to your oil reservoir. It allows pressure to be directed away from the motor seals and back to your oil tank. Check with us to see if your machine requires a case drain line. Why are we less expensive than the other guys? It's simple. All Eterra products are produced in high volumes directly in our facilities in Bellingham, Washington and sold directly on the web. We do not start building these one at a time when you place your order. We also do not use dealers. The other guys add 25 - 40% to allow dealers to sell their mowers. That is not how we do business. We believe the best way to sell our products is directly with to our customers. We sell it, and we support it. This means you save serious money by dealing directly.  Something else to note about our competitors.  Many of them make comparisons to our mowers that theirs are heavier.  If you know anything about these mowers, that makes no sense.  We design for maximum strength for the machine weights specified so that you get an effective mower that won't flip your machine.  If we knew nothing about design, we could just add steel and call it a day, but that would short change our customers.  Adding steel does not make a good mower.  It adds unnecessary weight that can endanger the operator.  Others are now using a metal spring disk as a dampener where we use a water jet cut rubber disk.  We have 15 years experience with this design and not one failure or replacement due to wear.  Our system is proven to last and is lighter and quieter.  We are waiting to see how long it will be before they have to change their design as their mowers are just too heavy, use a higher parts count, operate more noisily, and the replacement disks cost $1400 where if you ever needed one ouf ours, they are less than $100.  Good design always wins. If you want good design, buy Eterra.  If you want weight and un-necessary parts, then buy theirs. Our Cutter Shaft: We use 5" DOM Tubing for our cutter shafts to insure a strong and long wearing product. We do not use steel pipe like the other guys. We cut it ourselves and construct one of the toughest shafts available. Then we electronically balance it so when our flail is operating, it is hard to tell. No shaking from side to side or up and down. This is just another step that we add to make our mowers much better than the other guys. Our goal is to produce the best possible product and deliver it to you in the most economical manner. The Internet! What is DOM? Drawn Over Mandrel (DOM) Strong and well-finished DOM is an electric resistance welded tube tested for soundness of weld and drawn through a die and over a mandrel. This process imparts significantly improved mechanical properties to the tube, due to the cold working process. It is considered a high quality tube, and is normally constructed from SAE 1020 or 1026 steel. Note that, technically DOM refers to the process by which the tube is finished after having started as an ERW tube. Technically, DOM is not a type of steel tube, but rather a process. As so often happen though - in common use the term has become accepted to mean a specific type of tubing rather than a process. In this case, when people say "DOM" they normally mean an ERW tube drawn over a mandrel at (close to) room temperature and made from SAE 1020 steel. It is normally drawn to O.D. and I.D. dimensions. Here is what the Steel Tube Institute of North America has to say about DOM: The manufacturing process for DOM tubing begins with coils of steel, which are slit to the proper width for the desired tube size. The strip is cold formed and passed through an electric resistance welder which joins the edges together, under pressure, to complete the tubular shape. After testing the weld's integrity, the tubing is cut to length for further processing. The cold-drawing process creates a uniform, precision product with substantially improved tolerances, surface finish and tensile strength, increased hardness and good machine-ability. In this process, the tube is cleaned and annealed, and one end of each length is squeezed to a point so it can be gripped by the drawing mechanism. The tube is then drawn through one or more dies and over mandrels. This reduces the diameter of the tube and thins its walls to the required dimensions in a controlled fashion to provide the qualities desired in the finished product. Metallurgic-ally, drawing improves the tube's concentric, tensile strength, hardness and machine-ability. Close dimensional accuracy is achieved through tight control of both outside and inside diameters. Our competitors have been brutal with their comments about our mowers. Check with us for a list of satisfied customers. We offer a no nonsense warranty. 1 year, full replacement with no questions asked. If it fails, we take care of it. We have a full parts selection in stock. No one will offer you this. Others usually make you send the unit back for testing which will cost you serious down time. Features: * Safely cuts and mulches up to 2" material * Bolt on mount plate * High strength steel housing * Direct drive system (Reduced Wear Parts) * Electronically balanced cutter shaft * Safety Impact OSHA Safety Orange Powder Coat Finish * Wire proof wear cone Standard * 1 year warranty on parts and labor * Case drain line provided if needed. * Made in the USA. ***Case drain not required for Bobcat, Yanmar, Kubota, Caterpillar or Case Excavators. We have started making couplers on a limited basis for some machines.  Check with us for details of what is available.   EX-30 Video: Hydraulic flow requirement - 5-20 GPM @ 3000 PSI Payment is accepted through PayPal or by calling our toll free service line and giving us your credit card details. All items must be paid for before they ship, we do not ship COD. Please forward us your shipping instructions along with a daytime phone number that our shippers can contact. We cannot ship without a phone number, as there are many instances throughout shipping where the carrier or our team may need to contact you. Free Shipping Skid Steer Solutions is happy to provide our valued customers with free shipping to the lower 48 states. Our paid shipping options to Alaska, Hawaii and Canada have been reduced so purchasing has never been easier and the savings have never been better. In order to offer these great prices, there have to be some restrictions. They are as follows. Free Shipping to the Lower 48 Contiguous States only: If you are in a state but on an island or somewhere else that has limited access, you do not qualify for free shipping. Our system will still allow you to enter your order, but we will be contacting you to: Adjust your order amount to cover the additional shipping costs. Make arrangement to ship to a dock where you can pick the item up on the mainland. Cancel the order, as our margins are so slim we cannot afford to ship items to islands. Free Shipping Methods of Delivery Items up to 50 pounds: Most will ship USPS depending on size so please provide us with a valid address for either USPS or FedEx Ground. Items from 50 lbs. to 150 pounds: Ship FedEx Ground. Items above 150 pounds: Ship ODFL depending on your address. Free shipping is to a business address or freight depot and is not for home delivery with lift gate services. If you require special services, we will hold your order and get back to you with a quote for these services. Farms and construction sites that require special services will also be quoted and billed separately prior to shipment. Please also note that the shipping rates for many items we sell are weight-based. The weight of any such item can be found on its detail page. To reflect the policies of the shipping companies we use, all weights will be rounded up to the next full pound. Canadian Shipments We will try to use USPS whenever possible to minimize your costs and brokerage charges. If we cannot, we will use UPS because their brokerage is streamlined as opposed to FedEx. Larger shipments will travel with ODFL depending on your address. Base shipping is to a business address or freight depot, it is not for home delivery with lift gate services. If you require special services, we will hold your order and get back to you with a quote for these services. Farms and construction sites that require special services will also be quoted and billed separately prior to shipment. We Ship Worldwide We can ship to virtually any address in the world. Note that there are restrictions on some products, and some products cannot be shipped to international destinations. When you place an order, we will estimate shipping and delivery dates for you based on the availability of our items and the shipping options you choose. Please contact us to receive shipping date estimates before purchasing an item. Returns If the item is unused and in re-salable condition it may be returned under the Skid Steer Solutions 30-day return policy. Please be aware that the customer is responsible for the original freight fees and return shipping fees regardless of the original freight charge being advertised as free upon purchase. We incur the original shipping cost, however if the item is returned we will deduct the original shipping cost from the amount of the order. Please also note that Skid Steer Solutions charges a 10% restocking fee due to the nature of these products (weight, dimensions, packing material used and etc.). Skid Steer Solutions will deduct these fees from the original amount and then refund the remainder to you. Warranty Skid Steer Solutions, Inc.s Limited Product Warranty If you find physical defects in the materials or the workmanship used in making the product described in this document, Skid Steer Solutions, Inc. will repair, or at its option, replace, the product at no charge to you, provided you return it (freight prepaid, with proof of your purchase from the original reseller) during the 12-month period after the date of your original purchase of the product. Skid Steer Solutions, Inc.s RMA Replacement Product Warranty If you find physical defects in the materials or the workmanship used in the refurbishment of an RMA product replacement, we will repair, or at our option replace, the product at no charge to you for a period of 90-days from the date the RMA was created, or until the end of your original warranty period (whichever is greater). Skid Steer Solutions, Inc.s Refurbished Product Warranty If you find physical defects in the materials or the workmanship used in a product sold as a refurbished unit, we will repair, or at our option replace, the product at no charge to you for a period of 90-days from the date of purchase. SKID STEER SOLUTIONS WARRANTS THAT THE EQUIPMENT DELIVERED BY SELLER WILL BE OF THE KIND AND QUALITY DESCRIBED IN THE ORDER OR CONTRACT AND WILL BE FREE FROM DEFECTS IN WORKMANSHIP OR MATERIAL. SHOULD ANY FAILURE TO CONFORM WITH THIS WARRANTY OCCUR, AND THE BUYER HAVING GIVEN WRITTEN NOTICE TO SELLER WITHIN 180 DAYS FROM THE DATE OF SHIPPING, SELLER SHALL CORRECT SUCH NONCONFORMITY AT ITS OPTION BY EITHER REPAIRING THE DEFECTIVE PART OR PARTS OR MAKING AVAILABLE F.O.B. AT SELLERS LOCATION A REPAIR OR REPLACEMENT PART. THIS WARRANTY IS IN LIEU OF ALL WARRANTIES OF MERCHANTABILITY, FITNESS FOR PARTICULAR PURPOSE OR ANY OTHER WARRANTIES, EXPRESS OR IMPLIED. CORRECTION AND NONCONFORMITIES IN THE MANNER AND FOR THE PERIOD OF TIME PROVIDED ABOVE, SHALL CONSTITUTE FULFILLMENT OF ALL LIABILITIES OF SELLER TO BUYER, WHETHER BASED ON CONTRACT, NEGLIGENCE OR OTHERWISE RESPECT TO OR ARISING OUT OF SUCH GOODS. NEITHER PARTY SHALL BE LIABLE FOR SPECIAL, INDIRECT, OR CONSEQUENTIAL DAMAGES. THE REMEDY SET FORTH IN THIS INSTRUMENT ARE EXCLUSIVE, AND THE LIABILITY OF SELLER WITH RESPECT TO ANY CONTRACT OR SALE OF ANYTHING DONE IN CONNECTION WITH THE SAME, WHETHER IN CONTRACT, IN TORT, UNDER WARRANTY, OR OTHERWISE, SHALL NOT EXCEED THE PRICE OF THE GOODS OR PART UPON WHICH SUCH LIABILITY IS ALLEGEDLY BASED. Skid Steer Solutions offers great financing rates! Call us Toll-Free or message us here on eBay for details. Having an issue? Need a question answered about this product or any product answered fast? Click here to message your question or concern to Skid Steer Solutions, the guys that just know. We promise you a trustworthy and detailed answer in less than 24 hours.