Search for Items
|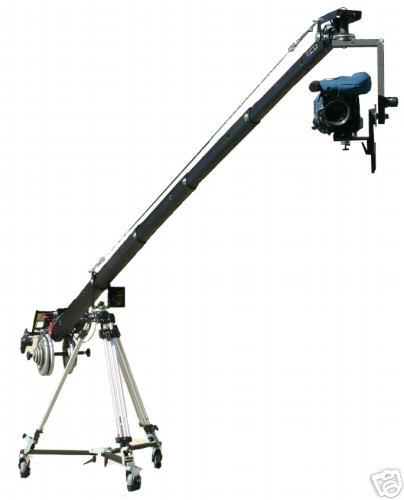 New JonyJib 2 18' Camera Crane - Jib Arm - Turnkey!
$9,500.00
Ends in 5d 21h 38m
3 Bought
Watcher count unavailable
Seller jonyjib_2012 has 100% + feedback, 336 total feedback on eBay
View jonyjib_2012's other items
This JonyJib2-18 auction is configured for small to full size 'interchangeable lens' video, film or DSLR cameras up to 20 lbs. JonyJib introduced the new JonyJib Pro Modular Camera Crane back in 2006 at NAB where it received a warm reception. With the success of that product, we decided to discontinue our 'original' 9-18 foot (2.75 to 5.5 meters) JonyJib product for this new design. Thus the JonyJib2 was born... This jib is the same design as the JonyJib Pro and is upgradeable to the Pro when your needs require a camera height higher than 18 feet. This jib package is fitted with the MotorHead 20 motorized pan & tilt unit, ZR3000 Zoom & Motorized Focus controls and a 7" LCD monitor all powered by a handy power distribution box and 12 volt power supply. This turnkey jib rides atop an included Manfrotto heavy duty tripod and dolly. What sets this crane apart from others is its ability to telescope and nest within itself. This crane's modularity is built on its lightweight, octagonal, aluminum, black powder coated 4 foot extension sections which start at the tail of the jib, with the largest diameter, and progressively get smaller as you get closer to the camera. The best part is, the arm breaks down to fit into a 48" tripod bag or case. The tubes, pivot bracket, camera platform, rear control center and miscellaneous items fit into a custom 'optional' foam cutout Pelican 1750 case. The electronic components fit into a custom 'optional' foamed Pelican 1650. The JonyJib2 is expandable from 9' (2 sections) to 18' (5 sections) in 3' increments. (These are height measurements. For reach subtract 5' from height.) Each extension tube is 4' long giving a 1' overlap between sections. Since each section slides out, pulled from the previous sections, you may store unused sections in the tail as ballast weight. This lightens your counterweight demand. You can buy as few, or as many, sections as you need. Then purchase more sections when you need them. The pivot point is pre-drilled to mount an optional Anton Bauer Gold Mount plate kit that feeds a 12 volt power distribution box at the tail. The distribution box feeds power to the motorized pan & tilt head, zoom & focus controls, the monitor and the camera. The pivot point is also pre-drilled to mount the included LCD monitor mounting bracket or an 'optional' monitor platform for 8-9" CRT monitors. The adjustable camera platform leveling cable is also anchored at the pivot point. The camera platform is designed to over-sling or under-sling the motorized pan & tilt head without any changes. Just attach it 'either way' and there's 360 degree pan & tilt clearance. The main arm and extension sections are aluminum while the pivot point, camera platform and rear control center are steel. All are powder coated with a durable cobalt black finish. If you've tried a lighter weight complicated jib or one of the many 'toy' jibs out there, it's time to step up your productions to include a real jib. Lightweight, compact, versatile and priced right. You'll want to check this one out! Allow 2 - 3 weeks for delivery! JonyJib2 Specifications Description JonyJib 2 JonyJib Pro Arm Material aluminum aluminum Arm Shape (profile) octagonal octagonal Arm Finish black powder coat black powder coat Reach/Arc Radius feet/meters feet/meters 9 foot height 3 / .9 3 / .9 10 foot height 4 / 1.2 4 / 1.2 12 foot height 7 / 2.1 7 / 2.1 15 foot height 10 / 3 10 / 3 18 foot height 13 / 4 13 / 4 21 foot height n/a 16 / 4.9 24 foot height n/a 19 / 5.8 27 foot height n/a soon 30 foot height n/a soon Height (based on 5' pivot) feet/meters feet/meters 3 foot reach 8 / 2.4 8 / 2.4 4 foot reach 9 / 2.7 9 / 2.7 7 foot reach 12 / 3.7 12 / 3.7 10 foot reach 15 / 4.6 15 / 4.6 13 foot reach 18 / 5.5 18 / 5.5 16 foot reach n/a 21 / 6.4 19 foot reach n/a 24 / 7.3 22 foot reach n/a soon 25 foot reach n/a soon Balance Ratio varies varies Camera Platform Leveling via leveling cable via leveling cable Camera Platform Capacity 40 lbs. 50 lbs. Breaks Down to 48" / 1.2 48" / 1.2 Mounts to Mitchell via adapter yes Mounts to 100m bowl yes no Rig Weight (w/o accessories) 10 - 50 lbs. 30-100 lbs. Includes LCD Mounting Bracket LCD Mounting Bracket 100mm Mounting Hub Mitchell Mounting Hub This auction includes the following: retail pricing is shown for comparison: (ebay bundled auction price is lower) JonyJib2 18 JonyJib2 18' Jib w/ Rear Control Center & Mounting Hub $ 3,400.00 LCD-HD9i LCD Monitor, 9" HD-SDI Loop 12 VDC $ 995.00 MotorHead HD Motorized Pan & Tilt Unit & Controller (up to 30 lbs) $ 2,700.00 ZR4F & Z Zoom & Motorized Focus Control for Fujinon or Canon Lenses $ 1,700.00 Wiring Loom Wiring Kit for Pan/Tilt, Focus/Zoom, Video and Camera Power (20' loom in Flexo wrap) $ 225.00 Power Box Power Distribution Box for all components $ 195.00 JonyJib Power Supply 12 volt / 5 amp / 60 watt Power Supply w/ 4 pin XLR (110 - 240 VAC) $ 150.00 Bogen 528XB Tripod Manfrotto Heavy Duty 528XB w/ 100mm bowl $ 800.00 Bogen 114 Dolly Manfrotto 114 w/ 5" wheels, cable guards and brakes $ 400.00 Total retail price: $10,565 Note: Cases are optional...