This eBay listing has ended : NEW 925 Silver Pendant Chain Bale Attachment Converter for Ur Brooch Pin 1 1/4"
Search for Items
|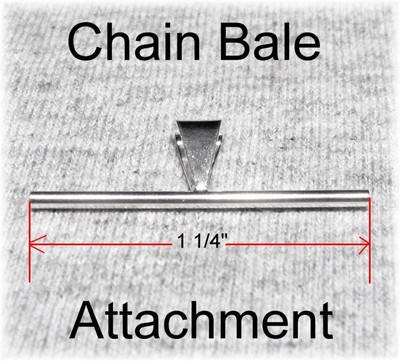 NEW 925 Silver Pendant Chain Bale Attachment Converter for Ur Brooch Pin 1 1/4"
$14.00
Listing ended Tue, July 17, 12:30 pm EDT
62 Bought
Watcher count unavailable
Seller painted-sky has 99.8% + feedback, 32464 total feedback on eBay
View painted-sky's other items
ITEM DESCRIPTION New 1 1/4" long All Sterling Silver 925 Chain Bale Attachment Converter.The chain loop opening on this attachment measures 3/16" x 1/8+".This Attachment is new and is stamped " 925 " for " Sterling Silver ".This attachment is used for turning most brooch pins (mostly the ones made in the USA & Mexico) into a pendant by sliding this Chain Bale Attachment on the pin of the brooch, re-lock the pin in the pin clasp and add your favorite chain through the Chain Bale.This Chain Bale Attachment is in Mint New Condition. The US 25 cent Coin piece (A Quarter) is used for a quick simple comparison of item, so you can get an IDEA of the size, the quarter measures: 24mm in diameter, thats also 15/16", just a hair under an inch, the Actual Sizes are listed in the description. COMBINING AUCTIONS = is FREE Payments are due within 4 Days of end of auction. Reasons why we have so many return customers that Buy from Us? * QUALITY & UNIQUE VINTAGE ITEMS * OVER 43,000+ POSITIVE FEEDBACKS * DETAILED AND ACCURATE DESCRIPTIONS * SWIFT SHIPPING, COMBINED SHIPPING AS WELL * LOWEST PRICES = NEVER A SURPRISE RESERVE ON OUR ITEMS * WE ARE HONEST, FRIENDLY AND APPROACHABLE EBAY SELLERS Be sure to add us to your favorites list! Check out our other items! Origin of the items we sell....... Most Jewelry is purchased because the buyer loves the look of an item, and it is a personal preference, and some are sought after by collectors, but it is the Buyers sole responsibility to Actually know what they are purchasing, and do their own research, as we can only give the information that we gathered when we purchased the items, we cannot verify our information in our descriptions due to many different circumstances, like ........ the person who had them in an estate was the only surviving spouse and they don't know the information about the items, or the information is given by an estate executor who had the items looked at by a professional, or did their own research, or a large group of jewelry was purchased from a Dead Pawn or Old Pawn Collection purchase, Auctions or individually purchased from other collectors, and a lot of items are already tagged with information by the previous owners or estate personnel, if items have sales tags or inked writing on them we remove these tags or writing on the items most of the time before we sell them, or the Gallery or Person it came from gave us the information we use, or was made by, we also cannot verify the exact age of items, or any hallmarks, or who had them first, second, third and so on on these old items unless signed with full name of silversmith.