Search for Items
|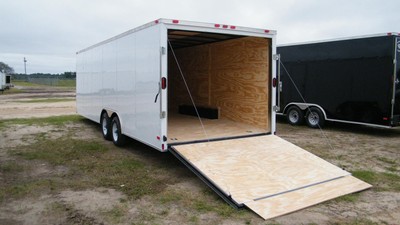 8.5x16 Enclosed Trailer Cargo V-Nose 18 Car Hauler Box 8 Motorcycle 2018 CALL !!
$3,950.00
Ends in 2d 3h 51m
2 Bought
Watcher count unavailable
Seller usa_cargo_trailer has 100% + feedback, 169 total feedback on eBay
View usa_cargo_trailer's other items
USA CARGO TRAILERAmerican Made Trailers1-800-674-9870usacargotrailer Brand New Factory Direct in: DOUGLAS,GEORGIA zip 31535 NO HYPE AND NO HIDDEN FEES $3,950 out the door. 8.5 X 16 ENCLOSED CARGO TRAILER Shopping for a quality trailer can be confusing & time consuming. We are here to help you understand the differences in quality. So we did the homework for you. Below is a list of feature comparisons on our trailers VS the competitors Our Trailer VS Competitors Trailer 6ft 6" Interior Height 6ft Interior Height 16" oc Wall Studs 24" on center All Tube Wall & Roof Studs Flimsy Z-bar & Hat post 6" Tube Main Frame 4" Or Channel 16Ft Plus V-Nose Not 16ft Including V, 14ft plus V=16ft 24" Stone Guard 12" - 16 " on some Diamond Plate Cap On V None Ramp Flap None 36" Side Door 24" Side Door on some 5yr Warranty 1-3 Yr Warranty We have a quality trailer for a great price. NOTICE: 10 THINGS YOU NEED TO LOOK FOR IF YOU SEE A LOWER PRICE. 1.) OUR TRAILER HAS 6" TUBE STEEL MAIN FRAME. (not Cheaper I beam) 2.) MAKE SURE THE TRAILER HAS A 36" SIDE DOOR (not 24" or not one) 3.) STURDY 3/4" PLYWOOD FLOORS 4.) EXTRA INTERIOR HEIGHT. 6 ft 6" (not only 6 FT) 5.) WITH A 5 YR WARRANTY (not 1-3) 6.) 24" of Diamond Plate Stone guard (not 12" or 16") 7.) A Ramp Flap 8.) A 16 ft Box Plus a V-nose= (not 14 ft+2=16 Ft) 9.) Our Wall Studs are 16" On Center (not 24"oc) 10.) All Tube Wall & Roof Studs 1"x 1.5" (not flimsy z-bar or 1x1) IF NOT, THAT'S WHY THEIR PRICE IS LOWER. DON'T BE FOOLED, We don't cut corners just to have the lowest price. Our goal is to give you the a quality trailer for a great price. Remember- "You Get What You Pay For" We have stronger boxed tube 2x6" main frame. Cheaper I beam has to be doubled up over axles. Our boxed tube frames are heavy duty and can handle any load and stand up to the twists. One of biggest V- noses in the industry. Top quality Lippert axles made in USA since 1956 HD adjusting brakes, EZ lube hubs. Our tough screwed exterior will stand up to the harsh elements. Stronger & more durable then screw less tape. Our 1"x 1.5" boxed tube wall & roof studs are the largest in the industry. Stronger side walls for shelving and hanging. Not 3 sided Z-bar or hat post. A+ rated with the Better Business Bureau. Before buying any trailer sight unseen check the manufacturer on the BBB's website. If you are looking for the lowest priced trailer on the internet then that's your business. If your are willing to pay $100 more for a tough quality built trailer, then that's our business. Remember- "You Get What You Pay For" Electric Brakes On All 4 Wheels 5 YEAR WARRANTY (NOT 1 OR 3 YR) WOW !!! AD 6 INCHES OF EXTRA HEIGHT FOR ONLY $195..OR 12 EXTRA INCHES FOR $275 WOW!!! UPGRADE TO 5200 LB AXLES FOR ONLY $500 AND GET A FREE TRIPLE TUBE TONGUE AND FREE LARGER 225 TIRES Factory Pickup Is Monday - Friday from 9 a.m-4 p.m. Please Call First Before Bidding To Check Your Color Availability WE STOCK MANY OF THESE TRAILERS, BUT WE SELL A LOT OF THESE TRAILERS TOO. SO IN THE EVENT THAT WE SELL OUT OF THESE TRAILERS , WE WILL GLADLY REBUILD THE TRAILER FOR YOU IN APPROXIMATELY 10 DAYS. PLEASE CALL & CHECK ON AVAILABILITY OF COLOR. THANK YOU.... All for $3,950. Print and bring this ad if you don't believe it. We guarantee It. Even though it sounds to good to be true. "Standard Features" Heavy Duty 2"x6" Boxed Tube main frame 16" OC Side Walls (1 x 1.5" tube) 16" OC Floor Cross Members Interior Height 78" - 6 Ft 6" 24" ATP Stone Guard (taller then most) Deluxe Plastic Tag Box 12 V Interior Light W/ Switch Roof Vent, Non powered Tongue Jack 2000 lb Top wind 36" Side Door With RV Lock, 2 keys Diamond Plate recessed step up Hold Back On Side Door V-Nose With ATP Diamond Plate Cap ST205 15" Bias Ply Tires. UPGRADE 5200 AXLES TIRES ARE 225's Top Quality Marine Grade Paint 15" Wheels With Brakes on all 4 Powder Coated Steel Wheels E-Z Lube Hubs, E-Z Lube hinge pins Aluminum Fender Flares 3/4" Plywood Floors 3/8" Plywood Walls 4-5000lb D-Ring Tie Downs. .024 Aluminum Metal (Exterior) 2- 5/16 inch Coupler Heavy Duty Safety Chains Painted Screwed Exterior Dual Cable Spring Assist Ramp Door NO SHOW BEAVER TAIL Thicker Galvalume Roof 2-3500 lb. Leaf Spring Axle W/ 4" Drop w/ Brakes 7-Way Plug, Breakaway Switch CALL 1-800-674-9870 THANK YOU FOR LOOKING.