Search for Items
|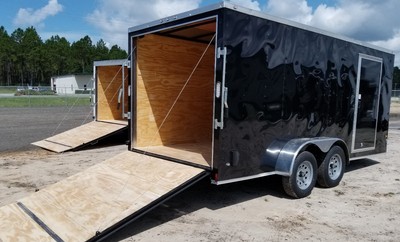 7x16 7 x 16 Enclosed Cargo Trailer V-Nose 18 Tandem 8 Motorcycle Lawn 2018 CALL.
$3,395.00
Ends in 8d 9h
17 Bought
Watcher count unavailable
Seller usa_cargo_trailer has 100% + feedback, 172 total feedback on eBay
View usa_cargo_trailer's other items
USA Cargo Trailer Buy American & with confidence.The Trusted Source.Better materials , better trailers.1-800-674-9870 7x16 Workhorse Edition, with 8 free upgrades, Save Big!!We really did it with all these upgrades at a awesome price. $3,395 IN STOCK NOW IN BLACK OR WHITE.6 Free Colors. Allow 10 days for other colors.Black & White Ready For Pickup In Douglas Georgia. This auction is for this exact trailer. No substitutions except color. If you need something different do not push buy it now. See our custom department at usacargotrailer. 8 Free Upgrades. Save $730 today.Limited time only. While supplies last. 10 reasons why our Workhorse is the best bang for the buck. 8 are free upgrades. Call now limited time only. 1.) Sits on a larger 6" frame (not a 4") 2.) Led exterior light package. ($100 value free) 3.) Led 12v interior light. ($50 value free) 4.) Radial tires. ($175 value free) 5.) 16" on center floors. ($75 value free) 6.) 6ft 3" tall inside (not 6ft) 7.) Thermocool insulated ceiling ($100 value free) 8.) Larger 36" RV side door. ($75 value free) 9.) Better name brand Z-Tech paint jobs. ($75 value free) 10.) 4 floor D-ring tie downs ($80 value free) Our trailers are stronger with 5 yr. manufacture warranty. 2 ft. V-Nose. Total Length 18 ft. PRICE $3,395Pickup in Douglas Ga. In Stock Now!!Call 1-800-674-9870 Shopping for a quality trailer can be confusing and time consuming. We are here to help you understand the differences in quality. So we did the homework for you. Our Trailer VS Competitors Trailer 6ft 3" Interior Height 6ft Interior Height 16" On Center Wall Studs 24" on center Tube Walls & Roof Studs Flimsy Z-bar, Hat Posts V-Nose Ads Length 16+V V-Nose is Included 6" Tube Main Frame Only a 4 inch frame 24" Stone Guard 12" - 16 " on some Diamond Plate Cap On V None Ramp Flap None 36" Side Door 32-24" Side Door 5yr Warranty 1-3 Yr Warranty 16" o.c. floors 24" o.c. floors 3/8"Plywood walls OSB particle board We have a quality trailer for a great price. Don't short change yourself and buy a cheaper economy model. Understand what you are buying. NOTICE: 10 THINGS YOU NEED TO LOOK FOR IF YOU SEE A LOWER PRICE. 1.) OUR TRAILER HAS 6" TUBE STEEL MAIN FRAME. (not 4" or channel) 2.) MAKE SURE THE TRAILER HAS A 36" SIDE DOOR (not 32" ) 3.) STURDY 3/4" PLYWOOD FLOORS. 4.) EXTRA INTERIOR HEIGHT. 6 ft. 3" (not only 6 FT) 5.) WITH A 5 YR WARRANTY (not 1-3) 6.) 24" of Diamond Plate Stone guard (not 12" or 16") 7.) A Ramp Flap 8.) A 16 ft. Box Plus a 2 ft. V-nose= 18 ft. (not 14 ft. +V=16 ft.) 9.) Our Wall Studs are 16" On Center (not 24"oc) 10.) All Tube Wall & Roof Studs 1"x1.5" (not flimsy z-bar or 1"x1") IF NOT, THAT'S WHY THEIR PRICE IS LOWER. DON'T BE FOOLED, We don't cut corners just to have the lowest price. Our goal is to give you a quality trailer for a great price. Remember- "You Get What You Pay For" Our 7x16 Heavy Duty Work Horse Edition cost more to build. We don't build economy models priced in the $2,800 range. They are not as durable and can ruin a manufacture's reputation. We are not willing to take that risk. Our customers always come back. And that is our Goal. Notice our rating on the Better Business Bureau is A+. Before buying any trailer sight unseen check them out at the BBB. Our 100% feedback rating is from trailer sales only. We do not prop up our feedback by selling parts or buying from other sellers. Our feedback is from 100% Trailers Sales Only. Uses 2-5/16 Inch Ball. Pickup In Douglas Ga. Call With Questions. Trailer weighs 2200 lbs. Electric Brakes On Both Axles. V-Nose. Factory Pickup Is Monday - Friday from 9 a.m-4 p.m. WE STOCK MANY OF THESE TRAILERS, BUT WE SELL A LOT TOO. SO IN THE EVENT THAT WE SELL OUT OF THESE TRAILERS PRIOR TO THE CLOSE OF THIS AUCTION, WE WILL REBUILD THE TRAILER FOR YOU IN 10-12 DAYS. Below Is A List Of All The Standard Features 16" OC Side Walls 1.5 " Tube 24" OC Roof Members 1.5" Tube 16" OC Floor Cross Members Ramp Gate & Flap 24" ATP Stone Guard Plastic Tag Box 12 V Led Dome Light W/ Switch 2- Side Vents Ramp Flap Top Wind 2k Tongue Jack 36" Side Door V-Nose With ATP Diamond Plate Cap ST205 15" Radial Tires Z Tech Paint 15" Wheels With Brakes on all 4 E-Z Lube Hubs Aluminum Fenders 3/4" Plywood Floors 3/8" Plywood Walls 2- 5/16 inch Coupler Heavy Duty Safety Chains Interior Height 75" - 6Ft 3" Dual Cable Spring Assist Ramp Door Thicker Roof 2-3500 lb. Leaf Spring Axle W/ 4" Drop E/Z Lube Hubs With Electric Brakes 7-Way Bargman Plug, Full Electric Brake Kit W/ Breakaway Switch and Battery All on a larger 6" main frame. If you do not want this exact trailer do not buy it. Call our custom department at usacargotrailer. 1-800-674-9870 Come see why we have 1000's of happy customers. Join the USA Cargo Team Today. Thanks for reading our ad.