This eBay listing has ended : 1979 Cessna 340A RAM VI Conversion Amazing Performance!
Search for Items
|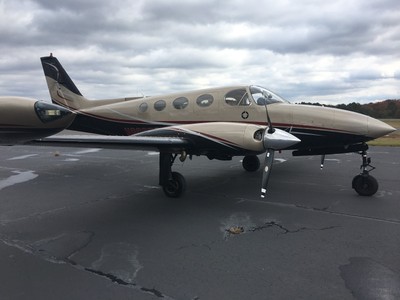 1979 Cessna 340A RAM VI Conversion Amazing Performance!
$150,000.00
Listing ended Wed, January 17, 9:46 am EST
0 bids
Watcher count unavailable
Seller quentynine has 100% + feedback, 293 total feedback on eBay
View quentynine's other items
1979 Cessna 340A. RAM VI Conversion. Beautiful Aircraft! Up for sale is this beautiful Cessna 340 that has been Corporate owned and maintained. No expense has been spared in maintaining this aircraft and upgrading it into one of the most beautiful, and best equipped 340's in the world. It has always been corporate owned and professionally flown. This aircraft will be sold with a fresh annual, and ferrying and/or professional flight training for FAA and insurance purposes can be negotiated with the sale. The reason for selling ... Owner has upgraded to King Air and says sell ASAP! So please look it over! It truly is remarkable. Here are the specifics ... Cessna 340A, N999EB, serial number 340A-0951 4063 TTAF Garmin G-600 Intergrated Flight DisplayGNS 430 WAASS-Tec 55 autopilotHartzell 3 Bladed Q-Tip PropsLast Annual 3/2017 (will be sold with fresh annual)Pre-Buy Inspection by Cessna Service Center 12/2017Beautifully upgraded Paint and InteriorVG'sComplete LogsLocated in Hot Springs, Arkansas - KHOT DETAILED DESCIPTRION: Avionics/EquipmentGarmin G600 Dual Screen Integrated Flight DisplayGarmin GNS 430 WASS GPS/COM/NAVGarmin GDL 69 Satellite Data Link ReceiverGarmin GTX330 Mode S TransponderGarmin GMA340 Audio PanelS-Tec 55X AutopilotKing KX-155 NAV/COMKing KT-76A TransponderXM WeatherBendix Color RadarHoskins CFS-2000A Fuel Flow ComputerKing KRA-10A Radar Altimeter SystemWoodward Propeller SyncroPhaserRecently Overhauled, Clean and Bright Gyros and Airspeed Indicators 3/2017 Airframe4063 Total TimeVortex GeneratorsRAM VI Conversion Package186 Gallon Fuel CapacityBeautiful and Striking Custom Paint 8.5/10Prior minor damage history. (1 right wing skin replaced in 1984 due to hard landing. Properly Documented on 337, Professionally repaired, and flown over 3500 hours since. Inspected annually over 35 times with no further repair needed). Engines/Mods/PropsLeft Engine - 671 SMOH by RAM Aircraft 2/2011Right Engine - 1170 SMOH by Western Skyways 2/2003Left Propeller 671 SPOH in 2011Right Propeller 506 SPOH in 2012 Right Engine - Significant Engine repair at Western Skyways 10/2012. 478 hours ago. Cam, Bearing and Lifter change. 6 new cylinders. Known Ice PackageDe-Ice BootsHeated WindshieldProp De-IceStall HeatPitot Heat Interior ComfortElectric Freon "Keith" Air Conditioning6 Place IntercomXM Music to each seatAux Music InputBeautiful Upgraded Leather SeatingRelief TubeNew Passenger Windows 2014Time/Life ItemsNew Tires 9/2016New Battery 3/2017New Brakes 3/2017Exhaust 10 year overhaul 2015Superior Cylinder AD not applicable RemarksThis always hangared aircraft recently went through an expensive and intensive pre-buy inspection at a Cessna Service Center. Buyer backed out at last minute due to family illness. All items. (even the nit-picky ones) have been addressed and aircraft is 100% airworthy condition and all systems function correctly.The previous owner changed N number twice. First, when he bought it, and second when he bought his new corporate jet. (he wanted the N number on his new jet). N999EB was previously N999EE. The "E" on the fuselage was changed with a vinyl graphic. Looks very good and is a good match, just wanted you to be aware. Current Owner has upgraded and says sell ASAP! Please Note:This 1979 Cessna 340A is in beautiful, airworthy condition. It has been expertly flown and maintained. While it is in remarkable condition, it is not new. There are a few chips and scratches in the paint, and some minor wear on interior fabrics and cockpit controls associated with careful and normal use. IMPORTANT:Aircraft has a clear title.Buyer must submit a $20,000 escrow deposit within 3 business days. All inspections must be accomplished at KHOT and be complete within 10 days of auction end. Closing must be final within 30 days or deposit becomes non-refundable. All closing fees are responsibility of buyer. Aircraft has a clear title. Remember, your bid is an offer to purchase this beautiful, well equipped, cabin class, airworthy aircraft with a fresh annual. While all offers are appreciated, low bids will be immediately rejected. Aircraft is listed locally and also through other internet media for sale. Seller reserve the right to end auction early. Aircraft is located in Hot Springs, Arkansas. KHOT. All inspections, test flights, transportation, ferrying and/or training is at buyers expense. You are welcome to bring your mechanic, or use a shop in this area. We have hangar space available to conduct inspections. Your mechanic will be very pleased! Bid With Confidence:About the seller: I have more than $1,200,000 in transactions on eBay with 100% satisfaction. I am a retired airline Captain, a corporate pilot, and a Chief Pilot for a Part 135 Air Ambulance company. I have a solid reputation for selling quality aircraft, and being honest and fair. I am a lifelong resident of Hot Springs and have been a professional aviator for more than 35 years. I have successfully sold aircraft, motorhomes, motorcycles, boats and automobiles through eBay by being honest and truthful. I have piloted and managed this aircraft for the last 3 years in Corporate use. Maintenance has been preformed by a FAA certified shop with more than 30 years of Cessna 340 experience. They own 3 of their own. Please contact me with any questions concerning this aircraft before auction end.