Search for Items
|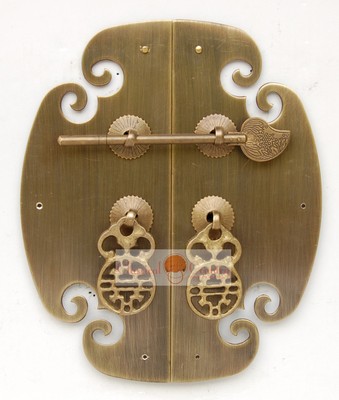 Furniture Brass Hardware Cabinet Face Plate Copper w/ Locking Pin Handle 6.9"
$23.99
Ends in 24d 8h
12 Bought
Watcher count unavailable
Seller felice.li has 100% + feedback, 2406 total feedback on eBay
View felice.li's other items
CHINESE TRADITIONAL HARDWARE 100% BRASS WITH FANCY DESIGN NECESSARY FOR CHINESE STYLE FURNITURE NICE & UNIQUE COLLECTION Such a find! So beautiful hardware design! All of our hardware is made of pure brass by skillful Chinese cabinetmaker with traditional techniques. Its thickness and firmness is enough to the require of traditional furniture. Many unique designs and patterns are syncretized in the hardware, even some small ones will make your furniture looks new and classic fully, then bring your home oriental charm. This item is a very refined cabinet pull plate.The unique design is " two immortals ", which in chinese accient story these 2 immortals can help to protect people with happy marriage. Install it on your simple cabinet, you will find a new and unique look magically. What's more, it is so easy that you could install it all by your self. Please don't hesitate to take such a nice collection. Measurements: width:14.5 cm (5.7''), height:17.5 cm (6.9"); enough pins will be presented Origin: Tianjin province, China Material: brass Color: old copper color Care Instructions: Avoid attrition with knife-edge. Clean it with soft cotton cloth. Custom furniture in your color, dimension or design? It's our pleasure and specialty! EASY INSTALLATION GUIDE In brief all traditional hardware of Chinese furniture is installed with nails, and all nails can be categorized into bifurcated rivets(A) and simple pins(B). Bifurcated rivets usually are used for pulls and handles where strength is required, simple pins are used for edging, decoration or as accessorial reinforce of bifurcated rivets. When we use bifurcated rivets, we need a needle nose plier, a hammer, a power drill and the suited drill bit. When we use simple pins, we only need a hammer. The steps of installing with bifurcated rivets: Step 1, drill a hole at the same width as the rivet. Step 2, assemble rivets onto the hardware and insert rivets into the hole. Step 3, spread the bifurcated rivets flat against wood respectively, if rivets are soft, even need hook the ends into wood. The steps of installing with simple pins: Step 1, assemble pins onto the hardware. Step 2, knock pins into wood vertically and lightly. Purchase Notice * This item will be dispatched within 3 business days after payment. * Payment should be received within 5 days from purchase. * The marked delivery cost is just for Air Post. If you buy mulriple items of brass hardware in one time, please message us to request combined delivery and get discount of shipping cost. Usually we only charge 70% of total shipping cost for 2-5 items and 50% of total shipping cost for more. * Please click to read the Purchase Notice , which is details of payment, delivery, made-to-order service and return policy. If you have any question, welcome to message us or click to read FAQ. * IMPORTANT NOTE: We need your help and fully support to keep our eBay store survive. Once your item arrives in satisfying condition, please leave feedback & DSR rating as your continuous support for us. It is very important and we will do the same for you! Please note the average DSR rating is around 4.6 score so a 4-star DSR rating is actually considered as the very poor rating. Worse still, ebay will block any seller from new listing if their DSR score is 4.3 or less. Our business will be badly hurt if we receive a 4-star or even lower DSR rating from you. * If you are not satisfied with the transaction, please tell us the truth and share with us your expectation. And we are happy to listen to and explore any improvement possibility. You are encouraged to leave factual feedback when all outstanding issue(s) is/are fully communicated and agreed with. Your kind understanding will be very appreciated!