Search for Items
|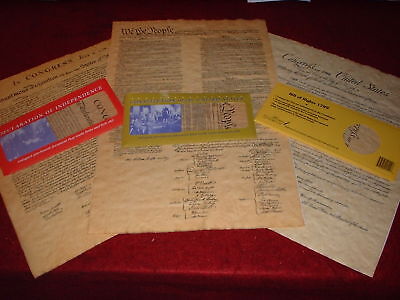 Declaration, US Constitution, Bill of Rights,3 Individual Freedom Document Set*,
$8.95
Ends in 23d 4h
46 Bought
Watcher count unavailable
Seller brian_game has 100% + feedback, 6491 total feedback on eBay
View brian_game's other items
3 Individual Freedom Documents Replica Set! Folded Declaration of Independence 13" x 15", Great Christmas Gift!!!! FREE SHIPPING!!!!!!!!!!!!!!!!!!!! U. S. Constitution 12" x 18", Bill of Rights 13 "x 15" The Founding Documents of our Nation!. Signatures of John Hancock, Samuel Adams, Benjamin Franklin, John Adams, Thomas Jefferson, and many other Patriots!. Printed on Antiqued Parchment paper, to look and feel OLD!! Printed by the Famous Company in Philadelphia PA., who have been printing these wonderful antiqued copies for about 50 years! Everyone should have a set. These are Medium Size and Folded. Reproduced on genuine antiqued parchment, looks and feels old!! Great for School, Scouts, Study, Home, Cabin, Basement, Framing, Decoupage, Arts and Crafts,Decoupage, Flea Market etc. Ships folded in # 12 envelope BUY IT NOW $8.95 This set is a amazing value, Individually priced at $3.99. These come Folded in a envelope !! Great for Framing!!!! School, Home, Scouts, History, Office, Hunting Cabin, Military, etc. Every one should have an extra set!!!!!!!!!!!!!!!! Check out my other items!