Search for Items
|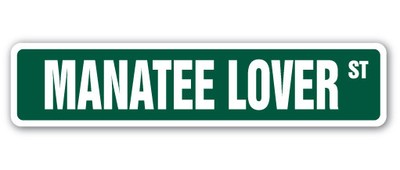 MANATEE LOVER Street Sign florida mammal sea cow herbivorous 18"
$11.98
Ends in 13d 9h
82 Bought
Watcher count unavailable
Seller signmission1 has 99.5% + feedback, 61191 total feedback on eBay
View signmission1's other items
MANATEE LOVER Street Sign florida mammal sea cow herbivorous | Indoor/Outdoor |  18" Wide Shop Our Other Listings Return Policy Add Us to Your Favorite Sellers List Featured Categories Animals Auto & Cycle Collectibles Country Flags Custom Signs Dogs Fishing Food & Drink Funny Hobbies Military / Government Music Name Street Signs Occupations Other Redneck Sports SignMission Pages SignMission eBay Store Add To Favorite Sellers MANATEE LOVER Street Sign florida mammal sea cow herbivorous 18" Get a fun novelty street sign for your home and office and show off your sense of humor. Looking for a fun, hilarious street sign to hang on your cubicle or in your "man cave"? If so, SignMission has all the cute, funny, hilarious, and even work-related novelty signs you're looking for! Something for Everyone We've got a wide range of American-made signs just like this sign that will tickle your funny bone, make others smile, or even show off your snarky attitude. Made To Last Made from a special plastic desgined to hold up to a beating, This sign can bend with out breaking and will never chip or crack, the colorful lettering will last a lifetime indoors and up to 4 years in the sun for outdoor use. Product Details:Pre-Drilled Mounting HolesIndoor and Outdoor UseRust and Fade ResistantOne-SidedDimension: 4" x 18"Made in the USAOutdoor Durable Plastic and Premium-Grade Ink Click 'Add to Cart' to get your Manatee Lover Street sign today and enjoy a good laugh each time you pass by! Return Policy We strive to make sure that all of our customers are satisfied and this is why we offer a 30 day money back guarantee. Buyer is responsible for return shipping. Contact Us If you have any questions or concerns please feel free to e-mail us using the Ask a Question link at the bottom of the auction page. We try to respond to all e-mail inquiries within 1-2 business days.