Search for Items
|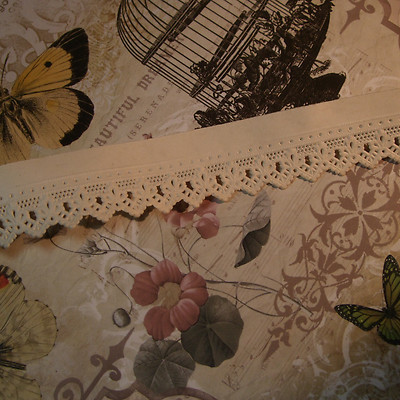 German dresden paper antique vintage embossed lace tape trim authentic 18th 1"
$9.90
Ends in 18d 10h
14 Bought
Watcher count unavailable
Seller stilbruch-collectibles has 100% + feedback, 1383 total feedback on eBay
View stilbruch-collectibles's other items
Vintage Antique Dresden Paper Trim Tape for Christmas Ornaments Authentic antique german dresden paper lace tape trim 1" wide pw-07 Sold by the yard in two pieces. See my other items for saving shipping costs Very rare 1890-1920 band of embossed paper lace which was used for Christmas Ornaments and decorations as well as Easter items. Found as still in the original boxes with the original bands around - in excellent condition relating to age - but there of course can be some kinks, spots or other wear. The wonderful charisma of these old originals is not comparable with the new stuff. They appear in the characteristic fine deep embossed shape and off-white to cream color. This is an unique and great chance for authentic restaurations of rare antique items or a wonderful addition for your crafts. I have 8 different gold bands and more in white, silver and brown. These are the old original rolls which are in double layers. !!! So be ATTENTIVE : the length you buy will come in TWO PIECES laying on top of each other. !!! That means f.ex: 1 yard will be two 1/2 yard pieces ! I can ship for $4.90 up to 50gr. but than I need TO FOLD it into an envelope. Much better is in a box for $7.90 where it can be rolled and shipped safely. Condition: All of my offers are antiques or old used items with normal signs due to those characteristics and sold as they are. I always do effort to provide good and detailed photos and an exact description. I tried to describe everything importend. If there are still any questions or you would like more photos, feel welcome to email. Shipping /Insurance: Shipping will be as priority airmailed registered letter or as parcel by German Federal Post. For several countries f.ex. as the United States it is possible to add insurance. The costs are additinal 2.50 $ per 100 € (approx. 120 $) and included in the stated shipping. With pleasure I will combine shipping for several items to lower shipping costs.