This eBay listing has ended : 1728, Beautiful Solid Silver Key-Fob resembling a Peruvian Gold Cob of Philip V.
Search for Items
|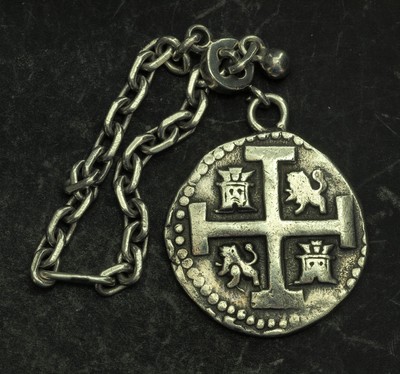 1728, Beautiful Solid Silver Key-Fob resembling a Peruvian Gold Cob of Philip V.
$121.50
Listing ended Mon, October 17, 4:39 pm EDT
31 bids
Watcher count unavailable
Seller coinworldtv has 99.9% + feedback, 17130 total feedback on eBay
View coinworldtv's other items
CoinWorldTV 1728, Beautiful Solid Silver Key-Fob resembling a Peruvian Gold Cob of Philip V. Mint Year: dated 1728 (produced during the 1980s, probably for a spanish coins collector) Denomination: A medallic Key-Fob, which resembles a peruvian 8 escudos coin of Philip V of Spain. Condition: The medal is probably cast, the chain is intact, possibly cleaned/polished in the past, otherwise VF. Material: Silver (hallmarked, but of uncertain purity, probably 80%) Diameter: 29mm (of the medal) Weight: 20.09gm Obverse: Pillars of Hercules, denomination (8) above, flanked by mint initial (L) and assayer letter (M), date (728 for 1728) below. Legends (P[LV]-[S]V[L]-[TR]A) across fields. Reverse: Cross of Jerusalem with lions and castles in quarters. All within circle of pellets. Philip V of Spain (Versailles (France), 19 December 1683 - La Granja (Spain), 9 July 1746 ), born Philippe de France, fils de France and duc d'Anjou, was king of Spain from 1700 to 1724 and 1724 to 1746, the first of the Bourbon dynasty in Spain. Philip was the second son of Louis, le Grand Dauphin and Maria Anna of Bavaria, known as Dauphine Victoire. He was a younger brother of Louis, duc de Bourgogne and an uncle of Louis XV of France. His paternal grandparents were Louis XIV of France and Maria Theresa of Spain. His maternal grandparents were Ferdinand Maria, Elector of Bavaria and Adelaide Henriette of Savoy, the daughter of Victor Amadeus I, Duke of Savoy. Philip helped his Bourbon relatives to make territorial gains in the War of the Polish Succession and the War of the Austrian Succession by reconquering Naples and Sicily from Austria and Oran from the Ottomans. Finally, at the end of his reign Spanish forces also successfully defended their American territories from a large British invasion during the War of Jenkins' Ear. During his reign, Spain began to recover from the stagnation it had suffered during the twilight of the Spanish Habsburg dynasty. Ferdinand VI of Spain, his son by his first queen Maria Luisa of Savoy, succeeded him. Philip was afflicted by fits of manic depression and increasingly fell victim to a deep melancholia. His second wife, Elizabeth Farnese, completely dominated her passive husband. She bore him further sons, including another successor, Charles III of Spain. He was later helped with his affliction by the castrato singer Carlo Broschi, famously known as Farinelli, who, for twenty years, sang the same four arias each night to the king before he went to sleep. Philip died on 9 July 1746 and was buried in his favorite Royal Palace of La Granja de San Ildefonso. Only 1$ shipping for each additional item purchased!