This eBay listing has ended : Antique Vintage Deco 18k Yellow Gold Italian Carved Momo Salmon Coral Necklace
Search for Items
|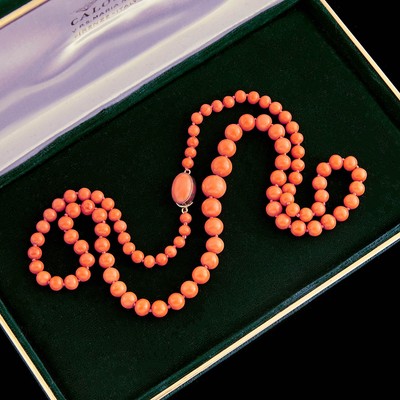 Antique Vintage Deco 18k Yellow Gold Italian Carved Momo Salmon Coral Necklace
$560.00
Listing ended Sun, November 19, 8:55 pm EST
68 bids
Watcher count unavailable
Seller abeautifultimeco has 99.7% + feedback, 13099 total feedback on eBay
View abeautifultimeco's other items
This piece has been re-listed! We have other Salmon Coral pieces up for auction this week! To view in separate listings, please click the picture links below. The Piece

 Auction Estimate: $2,000 - $4,000 Age Circa: Art Deco C. 1920 - 1940 Markings: 750 Country of Origin: Italy. This piece was bought from an Italian Estate and then brought to the U.S.! Brand: Unknown 
Gram Weight: 32.2 Grams

 Metal Type: 18k Yellow Gold Metal Melt Value: -- (Value is All-Inclusive Weight) 

Material: --

 Main Stone: Momo Salmon Coral

 Main Stone Measurements/Color: 5 mm to 10 mm in diameter, Light Salmon Orange

 Accent Stone: -- 

Accent Stone Measurements/Color: --

 Stone Treatment: The stones appear to be untreated, but we are not certified Gemologists and cannot be sure. Stone Cuts: Rounded

 Item Measurements: The necklace measures 24.5" long 
Closure/Clasp Type: Push-in clasp that works perfectly and includes an additional cabochon cut piece of coral on top! Link Type: --

 Pendant Type: --

 Notable Features: This necklace includes Momo Salmon Coral beads throughout! The Momo Salmon Coral beads are all rounded and feature a smooth polished surface. The Momo Salmon Coral includes a light salmon orange hue that is solid throughout all of the beads. The beads graduate in size from 5 mm to 10 mm in diameter and are in great condition! The Momo Salmon Coral beads are strung on a string that has been dyed red to complement them and holds the beads in place perfectly.

 Damage: Age appropriate wear. *Display items do not come with purchase, item only, unless otherwise noted.*



 The History


 This piece comes from the Art Deco Era! The Art Deco Era is famous for being the "Gatsby" or "Roaring Twenties" Era. A lot of gorgeous and timeless designs in jewelry came out of this period. During the Art Deco Period jewelers often made jewelry upon custom order, this would often take weeks to months to completely craft by hand. Momo Coral, or Cerasuol, is considered precious due to its range of vibrant medium and soft red to orange tones. Momo is most often found in Northern Taiwan, the Phillippines, and Japan. Having some of the thickest branches out of all coral, it can be cut into very large pieces if desired. The white veins that run through it are valuable as they make help identify it as Momo. The size, color, and durability of Momo Coral makes it ideal for use in jewelry. All packages are sent via USPS First Class Insured Mail unless another shipping option is chosen by the buyer. Buy It Now items ship for free (domestically). Shipping on auction items is priced as follows: Gold: $8.00 + $1.00 per additional gold item & silver items combine for freeSilver: $4.00 + $1.00 per additional gold item & silver items combine for free PayPal only. After 4 days of non-payment, an automated unpaid item case will be opened by our eBay system. If you need extra time for payment, please contact us prior to bidding. *****COLORADO RESIDENTS ARE SUBJECT TO SALES TAX. PLEASE WAIT FOR AN UPDATED INVOICE BEFORE PAYING FOR YOUR ITEMS. If you pay the invoice that doesn't have sales tax added, we will have to cancel your transaction and you will have to resubmit payment on the correct invoice. Thank you for your cooperation.