This eBay listing has ended : 1693 CIAMPINI "De Sacris Aedificiis" Architecture Archeology Churches 35 PLATES!
Search for Items
|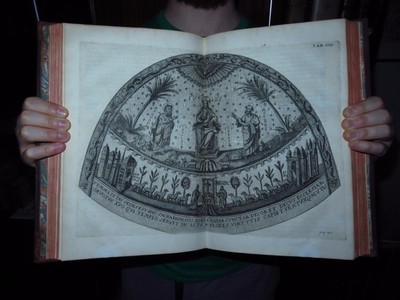 1693 CIAMPINI "De Sacris Aedificiis" Architecture Archeology Churches 35 PLATES!
$581.00
Listing ended Fri, June 23, 3:22 pm EDT
26 bids
Watcher count unavailable
Seller the.lord.of.the.books has 100% + feedback, 481 total feedback on eBay
View the.lord.of.the.books's other items
The expedition to the United States of Americadoes not cost $ 25.00 but: $ 50.00Before payment wait for the invoice with the correct shipment price. Thanks! Shipment will always and only traceable. We make a single shipment for more items purchased. Shipping worldwide.The pictures below are an important part of the description. Therefore the pictures must be viewed carefully.At the discretion of europe buyers or holding a paypal account in Euro: if buyers have an Euro account, we prefer to receive payment through paypal in Euro. Due to of the continuous change of Dollar and Euro, for the payment we will see and we will take valid the final price (in Euro) when the auction will be terminated.Per gli acquirenti italiani: se il pagamento sarà effettuato tramite bonifico bancario la spedizione sarà gratuita.Please make bid only if you are truly interested to buy. Thanks and good auction! TITLE: De Sacris Aedificiis A Constantino Magno Constructis Synopsis Historica Joannis Ciampini Romani Magistri Brevium Gratiæ, Ac In Utraque Signatura Referendarii. Romae, apud Jo. Jac. Komarek, 1693 In Folio 33 x 23 cm Contemporary binding in full leather (small lacks). COMPLETE: [XVI], 217, [1 errata], [2 bookseller's catalogue] pages. Allegorical engraved frontispiece by Arnoldo van Westerhout after Giovanni Battista Lenardi. 35 amazing engraved plates, some folding. RARE FIRST EDITION!!! Good Conditions: some stains, one page with restoration, two marginal tears but no loss of text. Giovanni Giustino Ciampini (1633-1698) was an eminent antiquary whose position as "Magister brevium gratiae" in the Apostolic Chancery in Rome enabled him to pursue his interests in books, coins, statues and the sciences, as well as archaeology. The present title is one of two major illustrated works of continuing utility and is largely concerned with the ancient churches built in Rome by Constantine the Great. The latter part of the book goes to the Campagna, Constantinople (including the Haghia Sofia) and Palestine (including the Church of the Nativity). Many of the plates are of an unprecedented architectural accuracy and depict features which have since been lost to change and decay. Giovanni Giustino Ciampini (born Rome, 1633; died there 1698) was an ecclesiastical archaeologist. He graduated from the University of Rome as a student of law but soon devoted himself to archaeological interests, which an important office (Magister brevium gratiæ) in the Apostolic Chancery permitted him to pursue. He devoted himself to the collection of books, coins, and statues, and to the creation of scientific circles for the development of antiquarian learning; thus he founded, in 1671, a society for ecclesiastical history and, in 1679, an academy of the sciences, the latter under the patronage of his friend, Queen Christina of Sweden. He continued the school of archaeological research begun by Onofrio Panvinio and Antonio Bosio, and carried on a smaller scale by Fabretti, Boldetti, and Bottari, and later Padre Alarchi and Giovanni Battista de Rossi. Apart from some minor archaeological studies (1693), he has left two illustrated works: "De sacris aedificiis a Constantino magno constructis", published in 1693 in Rome, is a history of the ancient churches East and West built by Emperor Constantine the Great. "Vetera monimenta in quibus praecipua . . . musiva opera . . . illustrantur", published in two volumes in 1690–99 in Rome, is a history of the art of mosaicsBoth works contain good illustrations of many ancient Christian edifices and mosaics that have since perished or suffered change and deterioration. Many of his drawings were copies or based on previous works, such as by Giacomo Grimaldi.