Search for Items
|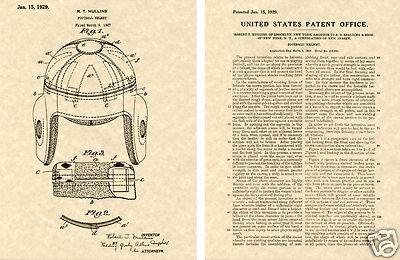 US PATENT for LEATHER FOOTBALL HELMET 1925 NFL Art Print READY TO FRAME!!!
$9.99
Ends in 11d 2h
33 Bought
Watcher count unavailable
Seller the-patent-guy has 100% + feedback, 14081 total feedback on eBay
View the-patent-guy's other items
Quality reproduction of the Original US PATENT for the Classic Leather FOOTBALL HELMET!!! This was invented in 1925 by Robert Mullins. Each sheet of this patent is reproduced on 8.5" by 11" Antiqued Parchment Paper, and includes the Drawing Sheet and Description sheet shown.Own an amazing piece of HISTORY!!! Ready to FRAME!!!Buy it Now!!!