This eBay listing has ended : ANCIENT VIKING STONE & SILVER DRAGON / HORSE HEAD AMULET PENDANTS DENMARK OLD NR
Search for Items
|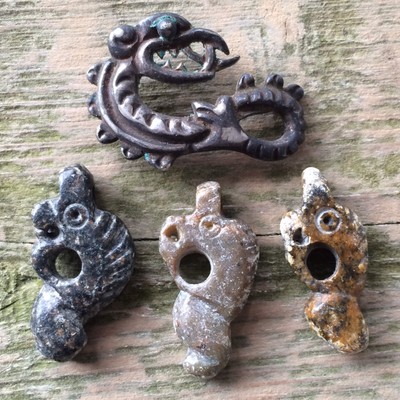 ANCIENT VIKING STONE & SILVER DRAGON / HORSE HEAD AMULET PENDANTS DENMARK OLD NR
$81.00
Listing ended Sat, May 20, 10:06 pm EDT
22 bids
Watcher count unavailable
Seller ancient_circles has 100% + feedback, 1841 total feedback on eBay
View ancient_circles's other items
US shipping will be $3.90. See below for all other shipping destinations. This is a four piece group of ancient Viking pendants, three matching carved stone dragon or horse head amulets, and a silver dragon of an undetermined age, but definitely an antique if nothing else. These came with a collection of antique and ancient beads I purchased several years ago, and were simply labeled 'Denmark'. The three stone pieces show ancient carving techniques, obviously no modern tools used, very aged and worn surfaces, smoothed edges from long wear, biconical holes indicating they were carved by hand, possibly with flint tools. The dragon appears to be true silver, it has a little bit of green patina on the front, and one unusually placed wire loop on the back. Very aged uncleaned patina. The silver piece measures 1 3/8", the stone pendants measure about 1.25". Great old pieces that you don't come across often. Best of luck. Guaranteed authentic as stated. 
Please feel free to ask any questions you may have prior to bidding.
 Shipping in the United States is $3.90. Overseas shipping is to be calculated by package size / location after auction end, but these will probably be about 16 bucks give or take. I will not falsify postal documents. Typically I only ship once a week, so please be patient. I will always try to work with a buyer if a problem should arise, but generally I do not accept returns. Returns only accepted in the circumstance of misrepresented items.